VISUAL ARTIST MELODY YOU AND 10:22PM ANNOUNCE ALBUM RECEIPTS PARTNERSHIP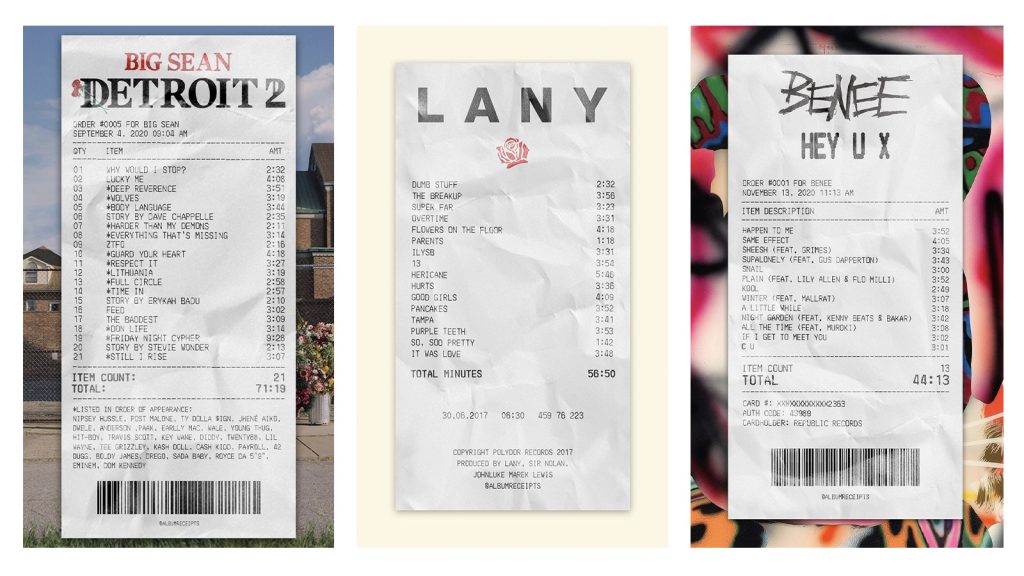 SANTA MONICA, December 15, 2021 — Visual artist Melody You and 10:22PM, a next-gen Web3 label that discovers and develops artists, brands and digital creators, are launching a new partnership for Album Receipts, a visual media concept that transforms album track lists into works of art that resemble store receipts.
Initially created by Melody You as a student art project during lockdown, Album Receipts is a simple, yet ingenious idea that creatively and tastefully reimagines album track lists into the ubiquitous slips of paper generated by cash registers. The visual project continues to engage and capture the attention of music fans around the world.
Since launching in March 2020 Album Receipts has drawn millions of likes and comments across social media, grown its audience to 150,000 followers on Instagram and caught the attention of some of the world's most influential recording artists including Big Sean (Def Jam), BENEE (Republic), Conan Gray (Republic), LANY (Interscope) and many more.
Now, with You signed to 10:22PM, Album Receipts is also expanding into digital products, streetwear and lifestyle brand that will collaborate with recording artists and talent across Universal Music Group's labels to create high-end, limited product drops. Album Receipts will operate as a social-first commerce brand in partnership with Bravado, selling directly on social platforms through organic content that aligns with the culture and vibe of its audience.
Starting today, fans can additionally create their very own Album Receipts based on their most-streamed songs on Spotify or Apple Music during the last month, six months or year — and easily share the artwork with friends. Check out the newly launched Album Receipts generator here.
You commented: "During lockdown, I was looking for a way to reach people through my love of art and music and I've been blown away by the reception. Working with Celine and 10:22PM, we're about to take this to a whole new level and I can't wait to show everyone what we have in store."
Celine Joshua, founder of 10:22PM, said: "I started 10:22PM precisely to support artists and entrepreneurs like Melody — innovative, boundary-pushing creators who have the talent, ability and drive to create powerful art that moves people around the world. Utilizing new technology and platforms, alongside innovative strategies and execution, we're able to deliver Melody's artwork and IP as digital and physical products fans can enjoy."
About 10:22PM
As Universal Music Group's next-gen label, 10:22PM has been discovering, developing and empowering artists, digital creators and brands since 2018. Providing innovative framework with a team of industry endemics, 10:22PM enables boundary-pushing talent to operate as fast and fluidly as the space requires. Through utilizing new technology and platforms, alongside first-of-a-kind strategies and execution, 10:22PM keeps its talent & IP at the forefront of entertainment and commerce. Leading the charge towards a Web3 future, sitting at the intersection of music, gaming, NFTs, Blockchain and the Metaverse.