UNIVERSAL MUSIC GROUP, GOODR AND CAPTAIN PLANET FOUNDATION TEAM UP ON COMMUNITY GARDENS
The initiative's first U.S. community garden project unveiled at L.A.'s 49th Street Elementary School in partnership with Universal Music Enterprises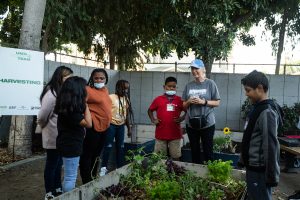 Santa Monica, CA – September 15th – The Universal Music Group U.S. Green Team (UMG Green Team), an initiative of Universal Music Group's All Together Now Foundation, has launched a global community garden initiative. The UMG Green Team will work with Goodr and the Captain Planet Foundation to build community gardens that help bring hands-on experiential learning opportunities to students across the United States. The first garden, known as "The Universal Music Enterprises (UMe) Community Learning Garden", was unveiled recently at the 49th Street Elementary School in Los Angeles.
The community gardens will serve as a space for students to engage in inquiry-driven, project-based learning across academic subjects, while also deepening their understanding of how natural systems work. The partnership with the UMG Green Team, Goodr and the Captain Planet will provide schools with the essential tools to establish and support garden-based learning programs such as garden materials and supplies, educator resources, and a mobile cooking kit.
"The UMG Green Team was created to challenge ourselves to lower our carbon footprint and enhance our sustainability efforts by working initially with local employees and communities, said UMG's EVP, Corporate Social Responsibility, Events and Special Projects, Susan Mazo. "The community gardens project is our first global initiative, and we're thrilled to work alongside our close U.S.-based partners, Goodr and Captain Planet, to create spaces that help students deepen their understanding of gardening and natural systems."
"We are excited to expand our hunger relief services by partnering with Universal Music Group and Captain Planet on this community garden," said Goodr Founder and CEO Jasmine Crowe. "It is amazing to see how this collaborative initiative is already providing access to fresh food and valuable resources to so many students and their families."
"We are grateful to launch the partnership with UMG and Goodr to expand community gardens. I love seeing the joyful smiles of the young people as they are engaged and exploring in the garden. I know intrinsically, we are doing something right when the young people create a connection and affinity for natural systems from these hands-on experiences," said Ashley Rouse, Project Learning Garden and Project Giving Gardens Program Director, Captain Planet Foundation.
At the UMe Community Learning Garden's opening ceremony, 49th Street Elementary School students and faculty were joined by urban gardening leaders to plant, harvest and taste-test produce. Attendees included: Ron Finley from the Ron Finley Project; Ashley Rouse from the Captain Planet Foundation; Ashley Summerral from Goodr; Alex Batson, Development Manager Special Projects and Events for Los Angeles Unified School District; and UMe's Cynthia Sexton, EVP Music Curation Creative Synchronization and member of the UMG Green Team; among others. Students also received reusable bags filled with produce.
"As a member of UMG's Green Team, I learned that the majority of UMe employees went far beyond expectations and exceeded the challenge in effort to help our environment. They also categorically chose to support a local community garden for children, hopefully, the first of many," said Cynthia Sexton, EVP Music Curation Creative Synchronization of UMe.
The UMe Community Learning Garden was created as the winning prize from the UMG Green Team's Earth Month celebration. For the month of April, participating U.S.-based UMG employees competed to complete a list of actions to lower their carbon footprint. For each completed challenge, UMG purchased a carbon offset to encourage sustainable action. UMe was the winning company in the inaugural annual event.
UMG's community garden project launched early this year with gardens established in the UK, France, Australia and New Zealand. The project is expected to expand this year to additional territories, including Brazil, Germany, India, Italy, Netherlands and South Africa, among others.
Photo: Celina Bhandari
About UMG U.S. Green Team
The Universal Music Group (UMG) U.S. Green Team is an initiative of the Universal Music All Together Now Foundation with the mission to challenge UMG to continue to lower its carbon footprint and enhance its sustainability efforts. The Green Team consists of over 120 members from across UMG who volunteer their time in initiatives, campaigns, company-wide programs along with and working with artists to promote awareness of the climate crisis. The Green Team works to build a community that drives awareness and action around environmental issues within UMG and beyond.
About Universal Music Enterprises
Universal Music Enterprises (UMe) is the global catalog and special markets division of Universal Music Group. Working closely in concert with UMG's record labels, territories and operating companies, UMe provides a frontline approach to catalog management, an emphasis on strategic marketing initiatives and creating opportunities in new technologies.
About Captain Planet Foundation
Captain Planet Foundation is an award-winning, US-based NGO that works collaboratively to engage and empower young people to be problem solvers for the planet. CPF was originally based on the critically-acclaimed animated series Captain Planet and the Planeteers when it was co-founded in 1991 by media mogul Ted Turner and series executive producer Barbara Pyle. In 2002, CPF separated from TBS and became a 501(c)3 public charity.
Over the past 31 years, more than 1.6 million children have directly participated in CPF's programs, which have funded 3,250+ projects, impacting 10.5 million young people. CPF's operating programs include: Project Learning Garden which has provided 530+ U.S. elementary schools with onsite learning laboratories and healthy food access; Project Hero which is a nationwide, web-based learning platform for K-12 students to save locally threatened and endangered species & ecosystems; Project Giving Gardens which puts school gardens and young urban gardeners to work in the summer months to provide fresh, organically-managed produce to food banks and food pantries; and Planeteer Alliance, a global network of young people who are putting their passion and impatience for change into ACTION for the planet.  For more information: www.captainplanetfoundation.org
About Goodr 
Founded in 2017, Goodr is a sustainable waste management and hunger relief company that leverages technology and logistics to reduce food waste and fight hunger. Goodr, a certified B-Corp, is built on the principle that food insecurity is not an issue of scarcity; it's a matter of logistics. Goodr offers a variety of Hunger Relief and Food Waste Solutions, which include Surplus Food Recovery, Pop-Up Grocery Markets, and more. Headquartered in Atlanta, Goodr operates nationwide with clients in industries ranging from food service and hospitality to arenas, universities, celebrities and more. As of 2022, Goodr has served nearly 30 million meals to those in need and redirected nearly 5 million pounds of organic material away from landfills. For more information on Goodr, visit www.goodr.co or follow the company on Facebook, Instagram or LinkedIn, @goodrco.