UNIVERSAL MUSIC GROUP ANNOUNCES STRATEGIC EXPANSION AND KEY LABEL LAUNCHES WITHIN SOUTH EAST ASIA TO BOOST FOCUS ON DOMESTIC AND LOCAL LANGUAGE ARTISTS
World leader in music-based entertainment announces the arrival of Def Jam South East Asia, Astralwerks Asia, Ingrooves & Spinnup for the region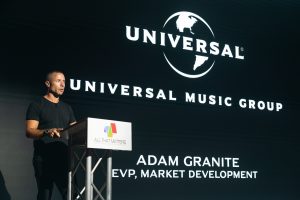 Singapore, September 17, 2019 – Universal Music Group (UMG), the world leader in music based-entertainment, today announced a significant expansion of its recorded music operations across South East Asia (UMG SEA) with the launch of two new flagship label divisions –  Def Jam South East Asia, to focus on the vibrant hip-hop scene within the region, and Astralwerks Asia, a modern, artist-first label with a true focus on nurturing talent within Asia across the electronic genre and beyond.
In addition, UMG SEA has announced plans to extend its focus and commitment to local language and domestic repertoire in order to provide music fans with the best music experience throughout the region. UMG SEA announced the launch of Ingrooves and Spinnup in the region to extend the range of marketing and distribution services that UMG offers to support independent artists, labels and talent throughout the region.
These announcements coincided with the official opening of UMG's new regional headquarters for South East Asia, in the heart of Singapore's vibrant arts and heritage district, and were revealed during a keynote speech today by Adam Granite, Universal Music Group's Executive Vice-President of Market Development, at the All That Matters '19 conference in Singapore.
Granite's speech focused on the commitment and investment by UMG into the long-term development and transformation of the region – one that reaches almost 700 million people and where music is increasingly driven by a young, social and mobile-driven audience. An audience that will only continue to grow as better data affordability, connectivity and smartphone access continues to improve.
Granite's keynote also featured an appearance by Calvin Wong, CEO, Universal Music South East Asia & SVP, Asia, who announced the opening of a new dedicated Universal Music office in Vietnam later this year, before introducing Toby Andrews, GM at Astralwerks, who spoke about the opportunities that artists from within the region now have to reach new audiences around the globe, and his ambitions for building the Astralwerks roster and brand within Asia.
Granite was additionally joined on stage by Ingrooves CEO, Bob Roback and Nina Usher, GM, Spinnup, to launch both services in the region and to discuss the impact and opportunities that their data-driven distribution and marketing platforms can create to help independent artists and labels from the region achieve further success within the wider Universal Music Group family. Speaking at the event Roback announced that Ingrooves would be expanding its operations within the region and launching in several new markets in the coming months.
To celebrate the launch of Def Jam South East Asia, Granite was lastly joined on stage by Joe Flizzow (Malaysia), Daboyway (Thailand), Yung Raja (Singapore), Fariz Jabba (Singapore), ALIF (Singapore) & A.Nayaka (Indonesia), six of the biggest rappers from the region, who were announced as the inaugural signings to Def Jam South East Asia. They performed an unannounced freestyle cypher together to close the event.
In making the announcement, Granite said, "It is an honor to be here in Singapore, alongside Calvin Wong, our CEO for South East Asia and with many of our senior-executives from around the world, to celebrate this strategic expansion of UMG's operations across the region, which serves as a mark of commitment and respect for both the music culture in the region, and our belief in its future."
Calvin Wong, CEO, Universal Music South East Asia & SVP, Asia said, "This expansion showcases the importance of South East Asia in terms of musical talent and future business opportunities. Music is more accessible than ever before, and we firmly believe there is the potential for regional and global breakthrough for our artists in the future."
UMG is accelerating its focus on growing the entire music ecosystem throughout South East Asia including recorded music, music publishing, production, live events, brand partnerships and merchandising efforts. This significant expansion of UMG's A&R, commercial and marketing capabilities will provide domestic artists unique access to UMG's global infrastructure and network around the world, as well as ensure UMG's international repertoire reaches audiences throughout the region.
About Universal Music Group
Universal Music Group (UMG) is the world leader in music-based entertainment, with a broad array of businesses engaged in recorded music, music publishing, merchandising and audiovisual content in more than 60 countries. Featuring the most comprehensive catalog of recordings and songs across every musical genre, UMG identifies and develops artists and produces and distributes the most critically acclaimed and commercially successful music in the world. Committed to artistry, innovation and entrepreneurship, UMG fosters the development of services, platforms and business models in order to broaden artistic and commercial opportunities for our artists and create new experiences for fans. Universal Music Group is a Vivendi company. Find out more at: http://www.universalmusic.com
About Astralwerks:
Established in New York City and now finding its new home in the historic Capitol Records Tower in Los Angeles, Astralwerks, the #1 electronic music label in America, was the brainchild of staffers at Caroline Records who saw an opportunity for a label focused on the emerging electronic and ambient scene. Having reached a milestone of 25 years, Astralwerks has quickly become a modern, artist-first label with a true focus on nurturing talent across the electronic genre and beyond. Acting with a scalable, independent and global thinking mentality with the capability to tap into the resources of a major label, has allowed Astralwerks to retain and sign artists such as ILLENIUM, Jonas Blue, Alison Wonderland, EDEN, EVAN GIIA, Willaris K, as well as the global hit "Happier" with Marshmello & Bastille. As a testament to this pioneering approach, Astralwerks has amassed 30 GRAMMY® nominations, taken home six GRAMMY Awards and had historic releases from the likes of The Chemical Brothers, Swedish House Mafia, Halsey, Porter Robinson, Phoenix, Eric Prydz, Fatboy Slim and many more. http://www.astralwerks.com
About Ingrooves
Ingrooves was founded in 2002 and is a leading global music marketing and distribution company. We provide labels and artists with a global team of experts and a powerful technology framework, giving them transparent distribution tools and marketing solutions to maximize revenue in today's dynamic music marketplace. By embracing data science and continually updating its offerings, Ingrooves is redefining the modern music company. https://www.ingrooves.com/
About Spinnup
Spinnup is a global digital music distribution service dedicated to independent artists. The Universal Music Group owned distributer provides independent and DIY artists a platform to release their tracks on the world's leading music platforms. A&Rs at UMG's iconic labels actively discover and sign artists via the platform, over 60 artists have been signed to date, with several having reached multi-platinum status. Http://www.spinnup.com