The Rolling Stones and Universal Music Group Announce Unprecedented Partnership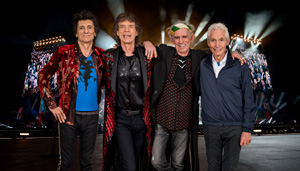 UMG to Provide Multifaceted, Global Support to Band's Iconic Recorded Music and Audio-Visual Work Including Merchandising, Brand Management and Archive
SANTA MONICA, JULY 9, 2018 – The Rolling Stones and Universal Music Group (UMG), the world leader in music entertainment, today announced an expansive worldwide agreement covering the band's iconic recorded music and audio-visual catalogues, archival support, global merchandising and brand management.
This multi-faceted partnership marks the beginning of a new era of expanded collaboration between The Rolling Stones and UMG.
Few bands in history have so profoundly impacted global culture as The Rolling Stones. Through their powerful music, infectious live performances, unique visual identity and attitude, the band is renowned throughout the world to audiences of all ages, widely influencing popular culture through art, fashion and film. With UMG, the band has a partner that complements and supports their global stature, with expertise and resources that enable the band to maximize their reach while underscoring their enduring cultural relevance across numerous forms of entertainment.
In making the announcement, Sir Lucian Grainge, Chairman & CEO of Universal Music Group, said, "After a decade of working in partnership together, we are thrilled to expand and extend our relationship with The Rolling Stones.  We look forward to bringing our expertise and passion to bear as we put our global organization to work on behalf of this iconic band who continue to create music and influence culture around the world."
David Joseph, Chairman & CEO, Universal Music UK, said, "The Rolling Stones continue to define rock and roll, they are loved the world over and they are the band who never let up. It's a privilege to work with them and Joyce Smyth, their exceptional manager."
Joyce Smyth, The Rolling Stones manager said, "For many years now we've had a wonderful partnership with Universal Music and look forward to an even more successful future together.''
As part of the agreement, UMG extends its position as the home for The Rolling Stones' iconic catalogue, which includes some of the most celebrated and influential albums of all time, from Sticky Fingers through to 2016's Grammy award-winning Blue & Lonesome. UMG will continue to distribute the band's celebrated recorded music catalogue globally with future projects and reissues to be released through UMG's labels and networks around the world.
Bravado, UMG's brand-management and merchandise company and the leading global provider of consumer, lifestyle and branding services to recording artists, will handle global merchandising rights, retail licensing, brand management and e-commerce on behalf of the band, including their iconic tongue logo, one of the most universally recognized symbols in entertainment.
At the same time, Bravado will continue working closely with the band and management to identify new and innovative opportunities for creative collaboration within the worlds of art, fashion, retail, sport, lifestyle and touring merchandise to excite and inspire their millions of fans around the world.  Recent programs and collections include partnerships with Paris Saint Germain FC, Selfridges, Colette and Zara and newly designed merchandise for their No Filter European Tour.
Eagle Rock, the UMG-owned leading producer and distributor of music programming for broadcast, DVD, Blu-Ray, TV and Digital Media, have expanded their global distribution rights to the band's extensive long-form audio visual catalogue. As part of the agreement, Eagle Rock will also re-issue several classic concert films from their archives including: Atlanta (1989); Steel Wheels (1989-90); Voodoo Lounge (1994); Bridges to Babylon (1997-1998); Four Flicks (2002) and Bigger Bang (2005-2006).
In addition, UMG will provide The Rolling Stones with archival support and dedicated space for the band's physical media assets, musical instruments and equipment across the company's ecosystem of vaults positioned around the world.
Universal Music Group has been home to the Rolling Stones since 2008, and with this extended agreement sees UMG leverage the company's global network of industry leading businesses spanning more than 60 countries to support the multimedia creative output of one of music's most iconic and influential artists.
About Universal Music Group
Universal Music Group (UMG) is the world leader in music-based entertainment, with a broad array of businesses engaged in recorded music, music publishing, merchandising and audiovisual content in more than 60 countries. Featuring the most comprehensive catalog of recordings and songs across every musical genre, UMG identifies and develops artists and produces and distributes the most critically acclaimed and commercially successful music in the world. Committed to artistry, innovation and entrepreneurship, UMG fosters the development of services, platforms and business models in order to broaden artistic and commercial opportunities for our artists and create new experiences for fans. Universal Music Group is a Vivendi company. Find out more at: http://www.universalmusic.com.
About Bravado
Bravado is the leading global provider of consumer, lifestyle and branding services to recording artists and entertainment brands around the world. Part of Universal Music Group, the leader in music-based entertainment, Bravado represents artists in more than 40 countries and provides services including sales, licensing, branding, marketing and e-commerce. Their extensive global distribution network gives artists and brands the opportunity to create deeper connections with their fans through apparel, consumer packaged goods and unique experiences. For more information: http://www.bravado.com
About Eagle Rock
Eagle Rock Entertainment is the world's leading producer and distributor of music programming for broadcast, DVD, Blu-Ray, TV and Digital Media in the world. Eagle Rock works directly alongside talent to produce top quality, High-Definition and 3D programs, both concerts and documentaries, including: The Rolling Stones, Pink Floyd, The Who, Queen, Elton John, The Doors, Jeff Beck, U2, Peter Gabriel, Paul McCartney and Ozzy Osbourne. Eagle Rock Entertainment's television catalogue features over 2,500 hours of programming and there are over 800 titles currently available worldwide on DVD, Blu-Ray and digitally. Eagle Rock Entertainment, is recognized by some of the industry's most prestigious honors, including Emmy, Rose D'or and Grammy Awards and more than 30 multi-platinum, more than 50 platinum and more than 90 gold sales certifications. Eagle Rock is part of Universal Music Group, the leader in music-based entertainment.