Sir Lucian Grainge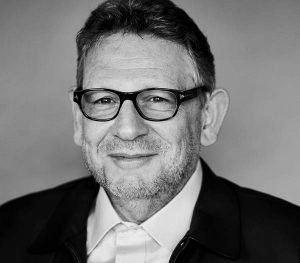 Sir Lucian Grainge is Chairman and Chief Executive Officer of Universal Music Group (UMG), the world leader in music-based entertainment.
Grainge has spent his entire career in the music industry and has signed and worked with many worldwide stars, including ABBA, Jay Z, Elton John, Katy Perry, Queen, Rihanna, The Rolling Stones, Sam Smith, U2 and Amy Winehouse, among many others. Over the span of three decades, he has not only pioneered new approaches to the signing and development of the world's most successful recording artists and songwriters but he has consistently championed the development of innovative business models and partnerships with a wide range of technology and media partners around the world. His leadership has transformed UMG into the most successful company in the history of the music industry and he is widely recognized as having laid the foundation for the industry's return to growth in recent years.
Grainge joined Universal Music in 1986 to launch PolyGram Music Publishing UK. Within five years, he had led the fledgling division to become one of the top three publishing companies in the UK. Grainge joined UMG's Polydor in 1993 as General Manager of A&R and Business Affairs, rising to Managing Director of the British record label in 1997. He was subsequently appointed Deputy Chairman, and then, in 2001, Chairman and Chief Executive Officer of Universal Music UK. In 2005, he was named Chairman and Chief Executive Officer of Universal Music Group International, gaining oversight of global operations outside the U.S. Grainge was appointed CEO of UMG in 2010 and promoted in 2011 to Chairman and CEO.
During his leadership, Grainge has dramatically improved the financial performance of UMG by significantly increasing the company's revenues and profitability. In 2011, he led UMG's successful acquisition of the recorded music assets of the legendary British music company EMI, revitalizing its iconic Capitol Records, and, in the process, further strengthening UMG's position as the global leader in music. Under his leadership, the company set numerous creative records including being the first music company with nine of the top 10 songs on Billboard's Digital Songs chart and the first music company to score all 10 of the top 10 spots on the Billboard Hot 100.
Grainge has been recognized for his many achievements throughout the years. In 2020, Billboard named Grainge as the publication's first-ever Executive of the Decade after previously appearing at No. 1 on Billboard's "Power 100" in 2019, 2016, 2015 and 2013 as the most powerful executive in the music business, the only person to hold that distinction four times and in consecutive years. Variety presented Grainge with its 2016 Empowerment Award for overseeing a shift in the company's leadership team with women occupying some of the highest executive positions.
Grainge, who received a star on the Hollywood Walk of Fame in 2020, was inducted into the Songwriters Hall of Fame in 2018 with the Howie Richmond Hitmaker award. In 2019, PPTOW! presented Grainge with its Icon Award, which honors trailblazers in their industries who have impacted culture around the world, and The Cannes Lions International Festival of Creativity honored Grainge as its 2017 Media Person of the Year, the first music executive to be recognized since the award was created in 1999. Northeastern University presented Grainge in 2017 with an honorary doctorate in global commerce and Berklee College of Music in 2016 awarded Grainge with an honorary doctorate of music. In 2015, he received the Spirit of Life Award from City of Hope and in 2014, he was awarded the President's Merit Award by The Recording Academy. In 2008, he was awarded the prestigious Music Industry Trusts' Award.
A native of London, Grainge was bestowed with a knighthood in 2016 by Her Majesty Queen Elizabeth II in the Queen's 90th Birthday Honours list for accomplishments in the music industry and leadership through its challenging times, contributions to British business and inward investment, as well as his development of innovative business models, technology and media partnerships that have expanded UMG's global presence. For his service to global creative industries, he was recognized in Britain's New Years Honors and awarded Commander of the Most Excellent Order of the British Empire (CBE) in 2010 and in 2011 he was made an Officier des Arts et Lettres by the French Government. Grainge was previously a board member of DreamWorks Animation SKG and Lionsgate. He serves on the board of Northeastern University in Boston, Massachusetts.
He lives in Los Angeles with his wife and children.