POCKET.WATCH AND UNIVERSAL MUSIC GROUP PARTNER TO RELEASE THE STUDIO'S POPULAR KIDS AND FAMILY CREATOR CATALOG FOR THE FIRST TIME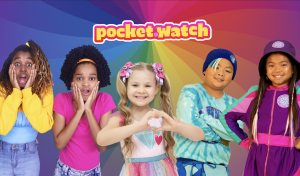 UMG Will Oversee Distribution of Songs From Pocket.watch's Vast Content Library Across All Major Digital Service Providers
Los Angeles, July 20, 2023 – Pocket.watch, the leading kids and family creator content and IP company, and Universal Music Group (UMG), the world leader in music-based entertainment, announced today that they have partnered to release the content studio's robust catalog of music to digital service providers worldwide. Tracks featured in YouTube videos, as well as in pocket.watch original series airing on platforms such as Roku and Hulu, will now be available to stream and download for the first time. The collaboration will also create a path for pocket.watch kids and family creators to release new original tracks in the coming months.
Pocket.watch's roster of 45 kids and family creators with a combined over 750 million subscribers will have the opportunity to distribute existing songs and create new music with UMG. The initial catalog release will include music from a selection of pocket.watch creators, including songs from the Emmy-nominated pocket.watchpreschool series "Ryan's Mystery Playdate," starring Ryan of the Ryan's World YouTube channel and which appeared for five seasons on Nickelodeon. Love, Diana starring Kids Diana Show, the most-followed kid on YouTube who's music videos have garnered billions of views, is also featured in the release with multiple songs, including Play It Be It (98 million views) and Play It Be It-Halloween (100 million views).
"We know that music is a huge part of kids' lives, and this mutually beneficial partnership provides a path for our expansive library of kids and family songs to reach beyond their appearance within YouTube videos," said Albie Hecht, Chief Content Officer, Pocket.watch. "We're proud to partner with Universal Music Group as they further expand their investment in the kids music space."
"We're thrilled to bring pocket.watch's music library to a broader audience of kids and family listeners," said Andrew Kronfeld, Executive Vice President, International and Label & Artist Ventures, UMG. "We continue to see growth in this exciting category and look forward to working with pocket.watch's team and their family of creators."
Other music included in the initial catalog release features a diverse range of pocket.watch creator talent, including the soundtrack from the pocket.watch animated series, Onyx Monster Mysteries starring Onyx Family, YouTube's No. 1 African American Family, as well as songs from Toys and Colors: Kaleidoscope City, featuring Toys and Colors, YouTube's top kids-ensemble and the No. 11 YouTube channel based in the United States.
For more information about the pocket.watch roster of franchises and creators and its premium slate of content, visit pocket.watch, or check out @pocketwatchHQ on Instagram, /PocketwatchHQ on Facebook, @pocketwatchhq on TikTok  @pocketwatchhq, and pocketwatch-studios on LinkedIn.
About Universal Music Group
At Universal Music Group, we exist to shape culture through the power of artistry. UMG is the world leader in music-based entertainment, with a broad array of businesses engaged in recorded music, music publishing, merchandising and audiovisual content. Featuring the most comprehensive catalogue of recordings and songs across every musical genre, UMG identifies and develops artists and produces and distributes the most critically acclaimed and commercially successful music in the world. Committed to artistry, innovation and entrepreneurship, UMG fosters the development of services, platforms, and business models in order to broaden artistic and commercial opportunities for our artists and create new experiences for fans. For more information, visit www.universalmusic.com.
About pocket.watch
Pocket.watch is the leading studio building kids and family entertainment franchises with the most popular digital creators in the world. Pocket.watch harnesses the power of audiences built on YouTube and expands them across all types of diverse kids and family platforms and experiences. The company brings kids more of what they love from these creators by producing original video and audio content, mobile games, metaverse worlds, live events and robust consumer products lines ranging from toys to toothbrushes. Key pocket.watch franchises include Ryan's World, Love, Diana, Onyx Monster Mysteries and Toys and Colors: Kaleidoscope City.
The company's content library, consisting of tens of thousands of kids and family videos, is distributed globally on over 40 platforms, generating hundreds of millions of hours of viewership every month. The content library comprises many seasons of the company's breakthrough MishMash™ format alongside pocket.watch originals including the Emmy-nominated Ryan's Mystery Playdate and the animated series Onyx Monster Mysteries and Love, Diana Adventures.
Founded in 2017 by Chris M. Williams (CEO), the company's headquarters and filming studios are located in Culver City, Calif. The executive team includes studio veterans and visionaries from a mix of traditional and digital entertainment backgrounds, including Albie Hecht, David Williams and Jon Moonves.
For more information about pocket.watch, please visit pocket.watch.