Iconic label ECM Records Commences Streaming and Expands Partnership with Universal Music Group in Global Digital Distribution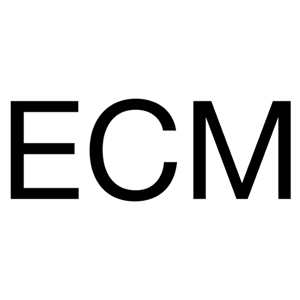 Munich/Berlin, November 17, 2017 – Esteemed independent label ECM Records today announced they are expanding their partnership with long-standing distribution partner, Universal Music Group (UMG), the world leader in music based entertainment to bring the entire ECM catalogue to major streaming platforms on Friday November 17, 2017.
Renowned for contemporary, jazz and classical music, ECM's catalogue is critically-acclaimed as the finest of its kind. Curated by its visionary founder Manfred Eicher, ECM has maintained a consistently high standard of artistry and production. The music and its accompanying artwork have been the subjects of books, films and exhibitions around the world.  Music from the likes of Keith Jarrett, Jan Garbarek, Paul Bley, Arvo Pärt, András Schiff, Kim Kashkashian, Anouar Brahem, Jack DeJohnette, Tomasz Stanko, Avishai Cohen, Nik Bärtsch, Vijay Iyer, Gidon Kremer, Meredith Monk a.o. will now be available on Apple Music, Spotify, Amazon Music, Deezer, Qobuz and Tidal.
Deutsche Grammophon, UMG's prestigious Yellow Label will be responsible for international digital distribution of the extensive ECM catalogue, the launch will be accompanied by a wide-ranging campaign in conjunction with the highly-engaged participating streaming partners.
ECM and UMG have also agreed a long-term extension of their partnership in physical distribution, expanding into Australia as an additional territory moving forward.
Clemens Trautmann, President of Deutsche Grammophon said: "I would like to thank Manfred Eicher for placing his trust in Universal Music Group and Deutsche Grammophon. Myself, my team and my colleagues around the world are delighted to work on bringing the precious ECM catalogue to digital platforms. We want to place our distribution capabilities fully at the disposal of ECM and its great artists and in doing so, benefit from each other's experiences and generate synergies with the portfolio of Deutsche Grammophon."
Frank Briegmann, President & CEO Central Europe Universal Music and Deutsche Grammophon: "I am delighted by this strengthened co-operation, our collaboration shows how a world-renowned genre label and a global major can respect and complement each other perfectly. Manfred Eicher's decades long emphasis on outstanding artists and exemplary production has created a legendary catalogue in the truest sense of the word.  We are proud to provide them with access to our international structure and team of experts."
https://ecm.lnk.to/ECM_Streaming
-ends-
ECM STATEMENT:
https://www.ecmrecords.com/news
ECM and Streaming
Over the past week we have begun the process of entering streaming, and from November 17th, the full ECM catalogue will be available to subscribers to services including Apple Music, Amazon, Spotify, Deezer, Tidal and Qobuz. This simultaneous launch across the platforms – facilitated by a new digital distribution agreement with Universal Music – invites listeners to explore the wide range of music recorded by our artists in the course of nearly five decades of independent production.
Although ECM's preferred mediums remain the CD and LP, the first priority is that the music should be heard. The physical catalogue and the original authorship are the crucial references for us: the complete ECM album with its artistic signature, best possible sound quality, sequence and dramaturgy intact, telling its story from beginning to end.
In recent years, ECM and the musicians have had to face unauthorized streaming of recordings via video-sharing sites, plus piracy, bootlegs, and a proliferation of illegal download sites. It was important to make the catalogue accessible within a framework where copyrights are respected.
ECM Press Office
Munich, November 14, 2017
Notes to editors:
ECM
In the course of its nearly fifty-year history ECM records has established a reputation as one of the most imaginative and creative independent labels.  For many listeners –  as The Village Voice once pointed out – ECM has become "more like a genre than a label", albeit a genre informed by music from the most diverse sources.  The consistently high quality of ECM's productions is legendary and the music and its accompanying artwork have been the subjects of books, films and exhibitions around the world.
ECM (Edition of Contemporary Music) was founded by Manfred Eicher and Karl Egger in Munich in 1969, and emphasized improvisation from the outset, its first release being Mal Waldron's aptly-titled Free At Last.  Standard-setting jazz recordings by Paul Bley, Keith Jarrett, Jan Garbarek, Chick Corea, Gary Burton, the Art Ensemble of Chicago, Don Cherry, John Surman, Terje Rypdal, Egberto Gismonti, Enrico Rava, Ralph Towner, Pat Metheny and more soon followed.   By the late 1970s, contemporary composition was also part of the programme, with idiosyncratic classics including Steve Reich's Music for 18 Musicians and Meredith Monk's Dolmen Music.
ECM New Series was launched in 1984 to introduce Arvo Pärt's quietly revolutionary Tabula Rasa album. The New Series has since become a broad platform for a spectrum of composition from the pre-baroque era to the present day.  Eicher, active as a producer for both ECM streams, has won numerous awards as Classical Producer of the Year and as Jazz Producer of the Year, and ECM has also collected international prizes across the categories.
Composers regularly represented on ECM New Series include – in addition to Pärt – György Kurtág, Valentin Silvestrov, Tigran Mansurian, Giya Kancheli, Erkki-Sven Tüür, Heinz Holliger, Heiner Goebbels, Helena Tulve and Eleni Karaindrou.  Amongst the musicians of the New Series are Sir András Schiff, Kim Kashkashian, Gidon Kremer, Dennis Russell Davies, Tõnu Kaljuste, Thomas Demenga, Anja Lechner, Rolf Lislevand, Carolin Widmann, the Hilliard Ensemble, Trio Mediaeval, John Potter, Alexei Lubimov, Momo Kodama, Anna Gourari, John Holloway, Michelle Makarski and Duo Gazzana. The New Series has also incorporated readings of poetry with Bruno Ganz and Christian Reiner.
One of ECM's achievements has been to bring together players from different musical worlds, with striking results. Keith Jarrett and Gidon Kremer collaborated on what remains the definitive reading of Pärt's Fratres. The pairing of saxophonist Jan Garbarek and the Hilliard Ensemble on Officium proved both an artistic and popular success and led to twenty years of touring together.  Other transcultural collaborations include the 2017 meeting between Tunisian oud player Anouar Brahem and jazz musicians Dave Holland, Jack DeJohnette and Django Bates on Blue Maqams.
Successive generations of musicians have grown up to listening to music on ECM, with second and third waves of players in Europe including Trygve Seim, Jakob Bro, Mathias Eick, Nik Bärtsch, Marcin Wasilewski, Colin Vallon, Thomas Strønen, Tord Gustavsen, Julia Hülsmann, Giovanni Guidi, Mette Henriette and others.
The label continues to document creative musicians active in the US including Vijay Iyer, David Virelles, Craig Taborn, Chris Potter, Tim Berne, Mark Turner, Ches Smith, David Torn, Mat Maneri and many more.  The work goes on.