CELINE JOSHUA JOINS UNIVERSAL MUSIC GROUP AS GENERAL MANAGER, COMMERCIAL, CONTENT AND ARTIST STRATEGY
Joshua to Form New Label, 10:22 pm, for Signing and Developing Recording Artists, Social Media Influencers and Digital Media Creators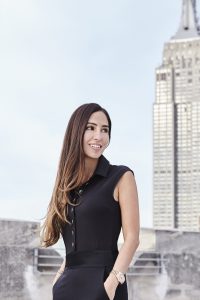 SANTA MONICA, February 27, 2018 — Universal Music Group (UMG), the world leader in music-based entertainment, today announced Celine Joshua has been appointed, effective May 1, 2018, to the newly created position of General Manager, Commercial, Content and Artist Strategy, working across UMG's labels, publishing company and global territories to maximize commercial opportunities, promote product innovation and implement new artist development strategies.
Additionally, Joshua will form a new UMG label called 10:22 pm and lead a staff charged with signing and developing recording artists, social media influencers and digital media creators with a focus on creating multimedia content and advancing new forms of storytelling. Joshua will report to UMG Chairman and CEO Sir Lucian Grainge and be based at the company's global headquarters in Santa Monica.
In making the announcement, Grainge said, "Universal Music continues to lead the industry in developing new creative and commercial opportunities for our artists and labels around the world. Our success will only accelerate with the addition of Celine, who has built an exceptional track-record of identifying projects that drive tangible results. I'm looking forward to having her work with our label and territory leaders to find even more opportunities across digital services and platforms, while building 10:22 pm into a progressive home for new forms of digital content."
"We have only begun to scratch the surface of what's possible on digital platforms in terms of building the artist fanbase, delivering content for a digital-first audience and driving new sources of revenue," Joshua said. "Universal Music has continued to be at the forefront of these efforts and I'm thrilled to take this next step in my career with an entrepreneurial-minded executive team. I would like to especially thank Lucian for this incredible opportunity."
During a career spanning increasingly senior roles at Warner Music, Walt Disney Records and Sony Music, Joshua has built a successful track record of combining data analysis and sharp artistic instincts to develop innovative commercial opportunities for artists and labels.
Joshua launched her career in music at Warner Music Group in the IT department, transitioning to a global e-commerce role at the company's Rhino Entertainment. Next, she joined Disney Music as Head of Digital, working across Hollywood Records and Walt Disney Records as well as the company's film studios and consumer products division. At Disney, Joshua worked on campaigns for Selena Gomez, The Avengers and Demi Lovato, among many more projects.
In 2013, Joshua joined Sony Music Entertainment as Senior Vice President, overseeing digital sales across the company's labels, before moving to Epic Records, where she oversaw all aspects of commerce and strategy for several top artists, social influencers and digital stars including 21 Savage, Future, DJ Khaled, Fifth Harmony, French Montana, Travis Scott and Camila Cabello.
In her prior position, Joshua created the release strategy that helped the artist Future secure sequential week No. 1 debuts on the Billboard Top 200 for two different albums, making him the first artist with that achievement in the album chart's 61-year history. Additionally, through data analysis, she helped improve 21 Savage's streams and audience growth. Joshua, who has been honored on Billboard's Women in Music in 2017 and 2016, most recently started an influencer roster at EPIC Records and was the first to sign digital stars to the company as content creators.
Joshua holds an MBA from the University of Southern California's Marshall School of Business.
About Universal Music Group
Universal Music Group (UMG) is the world leader in music-based entertainment, with a broad array of businesses engaged in recorded music, music publishing, merchandising and audiovisual content in more than 60 countries. Featuring the most comprehensive catalog of recordings and songs across every musical genre, UMG identifies and develops artists and produces and distributes the most critically acclaimed and commercially successful music in the world. Committed to artistry, innovation and entrepreneurship, UMG fosters the development of services, platforms and business models in order to broaden artistic and commercial opportunities for our artists and create new experiences for fans. Universal Music Group is a Vivendi company. Find out more at: http://www.universalmusic.com.