UNIVERSAL MUSIC VIETNAM AND METUB ANNOUNCE THE LAUNCH OF NEW monoX LABEL
Dedicated to new breaking new artists from the region, monoX will lift the curtain to push Vietnamese artists into the global spotlight
Wren Evans, Evy & Daisy named as first label signings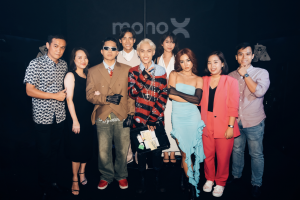 Ho Chi Minh City, Vietnam (July 28, 2022) – METUB, the leading Vietnamese MCN and mass media company and Universal Music Vietnam (UMV), a division of Universal Music Group (UMG), the world leader in music-based entertainment, today announced the launch of a new label, monoX.
monoX is a pioneering label collaboration that will serve as a crucial linchpin between finding, developing and introducing new Vietnamese artists into the spotlight. Embracing the idea that, "the world is your oyster", monoX is fueled with ambitions to break new artists and connect to people and fans around the world with its music.
The two companies, inspired by incredible young creatives, joined hands to announce this milestone at a press conference held in the heart of Ho Chi Minh city. monoX has been launched to be a thriving hub for exploring and developing talent, curating its finest catalogue that best represents Vietnam to make a global impact.
monoX is a reflection of its CEO – Kendall Nguyen, sophisticated, daring, dedicated to spotlighting new artists, and often exploring new sounds and colours that create unconventional ways to connect people. In making the announcement of the label launch, Kendall said: "It is exciting what we get to do here, and this showcase is a significant event to me. In less than 2 weeks, our artists have put together a show that not only entertains but also makes a statement of who we are as a record label. We hope to attract artists and fans with similar vibes, locate our tribe and create music that transcends borders"
At the event, monoX highlighted its very first signee – Wren Evans during the press conference.
Wren Evans is a Vietnamese singer, songwriter, influencer and fashionista that has released several singles. His debut single "Thich Em Hoi Nhieu" (I like you alot) garnered more than 10 million views in less than 10 days upon release, clinching the Number 1 slot across multiple platforms and has quickly propelled him to be among the top new talents of his generation. His YouTube channel has already picked up more than 110k followers, which further proves his influence among the Gen-Z audience. His latest single 'Con Dau (The Pain)' was released 3 weeks ago, alongside an accompanying music video https://www.youtube.com/watch?v=SGtYOC15s0w. The track is lifted from his debut album, to be released later this month through monoX / Universal Music Vietnam.
On signing to monoX, Wren said: "I am thrilled to finally have a team that truly understands and supports what I do creatively. Now I only focus on putting out music. A lot of it. I cannot wait for my fans to discover the next chapters in my journey."
At the event, monoX also introduced its two latest artist signings – Evy and Daisy, two new talents, each of whom possesses a unique X-factor. Evy stunned the crowd with her soft yet sensual vocal over experimental electronic production, while performing on a pole, whilst Daisy captivated the audience with a grounded voice, tanktop-in -a-club attitude, and music drawn from a third-culture kid's perspective. Stay tuned for their new releases in late July.
Speaking on the announcement, Lan Khanh Phung, GM of Universal Music Vietnam said: "We are able to provide a one-stop shop for artists. More than just music, we can connect people through creativity, emotion and dreams. From Passion to Profession. We want to bridge the two worlds together and the launch of monoX as a standalone new label with provide Vietnamese artists new opportunities to find success and build audiences, both at home and globally."
Calvin Wong, CEO of Universal Music South East Asia, adds: "We are excited to work closely with Kendall, Phuong and our partners at METUB to make monoX a success, and for the label to become a catalyst for Vietnamese music and artists to find popularity locally, across the southeast Asia region, and beyond."
Phuong Ha, CEO of METUB said: "Although we have worked with many artistes to craft their digital strategy before, the establishment of the monoX Label is a special move for METUB, to step further into the music landscape, which to me, is at a very exciting stage. With this co-operation between METUB and Universal Music Group, we hope to build a home for Vietnamese artists where they can enjoy a world-class music industry value chain with local insights and an extensive network. At METUB, we are able to discover new talents at a very early stage of their career and certainly, monoX Label will continue to help us to turn their passion for music into a successful artist career."
CLICK HERE FOR IMAGES.
About Universal Music Group
At Universal Music Group, we exist to shape culture through the power of artistry. UMG is the world leader in music-based entertainment, with a broad array of businesses engaged in recorded music, music publishing, merchandising and audiovisual content. Featuring the most comprehensive catalogue of recordings and songs across every musical genre, UMG identifies and develops artists and produces and distributes the most critically acclaimed and commercially successful music in the world. Committed to artistry, innovation and entrepreneurship, UMG fosters the development of services, platforms and business models in order to broaden artistic and commercial opportunities for our artists and create new experiences for fans. For more information visit www.universalmusic.com.
About METUB Network
METUB is the leading creator economy platform in Vietnam, helping 3000+ creators and artists in Vietnam to create, distribute content and explore commercial partnerships with brands. METUB Network currently generates 7 billion views monthly on YouTube and partners with top artists and creators in Vietnam, including Tran Thanh – the hottest/most prominent multi-talent artist with more than 20M+ followers on social media, FapTV- the biggest YouTube channel in VN with 13.3M subscribers, 5M Facebook followers, and top content creators in multi-vertical like Do Mixi 6.41M Youtube subscribers (gaming), and Hau Hoang 7.73M subscribers (entertainment)… METUB's vision is to enable everyone to "live by passion" – turn their passion into a sustainable career. Visit Metub's website: https://metub.net/