UNIVERSAL MUSIC SPAIN CELEBRATES 200 YEARS OF THE ICONIC TEATRO REAL DE MADRID WITH SECOND ANNUAL UNIVERSAL MUSIC FESTIVAL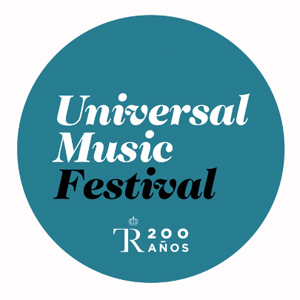 MADRID, July 7, 2016 – Universal Music Spain are celebrating the second annual Universal Music Festival throughout July, with world-class artists helping to celebrate the 200th anniversary of the magnificent Teatro Real de Madrid.
Opening on Tuesday with a special concert from global superstar Rod Stewart, the Universal Music Festival brings the best national and international Universal Music artists to this historic venue in the Spanish capital. This year's program also sees Jose Luis Perales, Rufus Wainwright, Bunbury, Diana Krall, Manuel Carrasco and Arcangel take to the stage of the 1,750 capacity opera house, giving fans a chance to see these renowned artists in an intimate setting with outstanding acoustics.
Their Majesties King Felipe VI and Queen Letizia of Spain attended the opening night along with numerous distinguished guests from the film world, politics, the music industry and television celebrities.
Taking place over three years, from 2016 to 2018, the Teatro Real de Madrid's bicentennial anniversary will celebrate the rich history of the venue. In line with other major venues worldwide including the Royal Albert Hall in London, the Olympia Theatre in Paris and the Carnegie Hall in New York, the Teatro Real de Madrid became a 'Spanish Property of Cultural Interest' in 1993 and is a cultural symbol of the capital.
Narcis Rebollo, President of Universal Music Iberian Peninsula said:  "We are privileged to host these fantastic concerts at the Teatro Real de Madrid for our second annual Universal Music Festival. It is an honour for Universal Music Spain to be part of their bicentennial celebrations, bringing some incredible artists from around the world to Madrid for this momentous occasion."
Jesús López, Chairman & CEO of Latin America and Iberian Peninsula added: "It's a real pleasure to see the doors of Teatro Real opening for the second consecutive year for the most important national and international artists to share their art with the Madrid public, showing a variety of musical styles without precedent in the Spanish cultural scene. Thanks to the public that have responded so enthusiastically to this initiative, making each and every concert of this Universal Music Festival a sell-out."
Universal Music Festival 2016 Line-Up
July
TUE 5 – Rod Stewart
FRI 8 – Jose Luis Perales
SAT 16 – Rufus Wainwright
TUE 26 – Bunbury
WED 27 – Diana Krall
THU 28 – Manuel Carrasco
SAT 30 – Arcangel
About Universal Music Group
Universal Music Group (UMG) is the world leader in music-based entertainment, with a broad array of businesses engaged in recorded music, music publishing, merchandising and audiovisual content in more than 60 countries. Featuring the most comprehensive catalog of recordings and songs across every musical genre, UMG identifies and develops artists and produces and distributes the most critically acclaimed and commercially successful music in the world. Committed to artistry, innovation and entrepreneurship, UMG fosters the development of services, platforms and business models in order to broaden artistic and commercial opportunities for our artists and create new experiences for fans.
Universal Music Group is a Vivendi company. Find out more at: http://www.universalmusic.com.