UNIVERSAL MUSIC PUBLISHING GROUP NAMES THOMAS VIDOVIC AS MANAGING DIRECTOR, GERMANY AND SENIOR VICE PRESIDENT, AUSTRIA & SWITZERLAND
Diana Muñoz promoted to SVP, Finance and Administration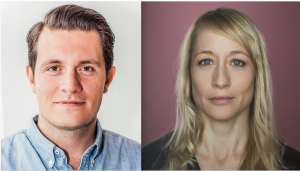 SANTA MONICA and BERLIN, September 10, 2019 – Universal Music Publishing Group (UMPG), a leading, global music publisher, today announced that Thomas Vidovic has been named as Managing Director, Germany and Senior Vice President, Austria and Switzerland. Based in Berlin, Vidovic reports to UMPG COO Marc Cimino and begins in his new role effective immediately.
An accomplished creative executive, Vidovic most recently served as head of UMPG Germany's sync team where he led the division to unprecedented success. As Senior Director of Music for Advertising and Film, Vidovic was responsible for overseeing creative, licensing and commissioned music operations in Germany, Austria and Switzerland for advertising, film and TV, games and stage productions. He has helmed major sync deals for Volkswagen, Deutsche Bank, Sony Bravia, Mercedes-Benz, and more. Vidovic, who joined UMPG in 2011, also worked closely with the company's A&R and sync teams to define and develop songwriters for film and TV.
Jody Gerson, UMPG Chairman and CEO, said: "I am thrilled that Thomas is taking on this leadership role at our company. Since joining UMPG, he has been instrumental in developing innovative creative strategies for our German business, particularly in sync, that have been invaluable to our success. Marc Cimino and I have closely watched Thomas' growth over the past four years as an executive and we have tremendous confidence in his ability to lead the fantastic UMPG teams in Germany, Austria and Switzerland."
Vidovic said: "I would like to thank Jody and Marc for their trust and support in giving me this opportunity. During my time at UMPG and in developing our sync business, they always believed in my ability to find new ways of creating opportunities for our songwriters. That vision and support is what makes UMPG the most innovative, proactive and creative-driven publisher. I am thrilled to shape the future of Universal Music Publishing with our exceptional team, both in Germany and globally."
UMPG also announced that Diana Muñoz has been promoted to SVP, Finance and Administration, effective immediately. She will report to Vidovic. Muñoz, who has been with UMPG since 2011, most recently served as VP, Finance and Administration, a position she was appointed to in 2018. A respected music publishing executive, Muñoz currently serves as a proxy member of the GEMA Board and on the Board of Directors for DMV (the German Music Publishers Association).
Said Muñoz: "It is an exciting time to be in music publishing with many opportunities for growth and UMPG is well placed to shape the future for our songwriters. I am grateful to be part of a wonderful team and look forward to working with Thomas toward even bigger and better success."
UMPG Germany's roster includes famed rock band Rammstein, Chima Ede, Udo Lindenberg, Philippe Heithier, Eno, RIN, Elif, Namika, Cro, Haftbefehl, and others.