UNIVERSAL MUSIC GROUP TO CELEBRATE HIP-HOP'S 50TH ANNIVERSARY WITH A SERIES OF EVENTS AND FAN INITIATIVES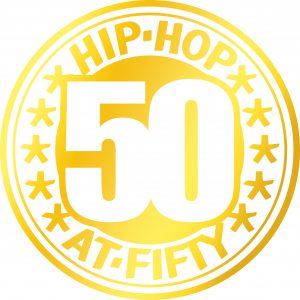 TO MARK THE GOLDEN ANNIVERSARY – DEF JAM RECORDINGS ARTISTS – JA RULE, ASHANTI & JADAKISS WILL LIGHT NEW YORK'S ICONIC EMPIRE STATE BUILDING GOLD IN A CEREMONY TO MARK THE 50TH ANNIVERSARY ON AUG. 11 
UMG LAUNCHES NEW CURATED FAN HUB – HH50.COM FOR ACCESS TO EXCLUSIVE MERCHANDISE DROPS, PLAYLISTS FROM SOME OF THEIR FAVORITE HIP-HOP ARTISTS  
New York, August 10, 2023 – Universal Music Group (UMG), the world leader in music-based entertainment and home to the most iconic and influential labels & brands in music, today announced an exclusive program of activity for fans to celebrate Hip-Hop's 50th Anniversary, beginning with the special lighting of New York's iconic Empire State Building in gold, to celebrate the milestone birth of Hip-Hop in the city on the evening of Friday August 11.
The lighting ceremony at the Empire State Building will take place today, Thursday Aug. 10, ahead of the anniversary and will feature appearances from legendary Def Jam Recordings artists – Ja Rule, Ashanti and Jadakiss, all homegrown New Yorkers, followed by a special event in Brooklyn to count in the milestone date. Then on Friday, Aug. 11, the Empire State Building will shine its tower lights in gold in Celebration of Hip-Hop's 50th Anniversary, the Golden Anniversary. These events mark the first of a series of special events, campaigns and releases that will celebrate Hip-Hop throughout 2023.
To coincide with the arrival of Hip-Hop's Golden Anniversary, UMG has today launched HH50.com, a new dedicated hub where fans can find exclusive and limited merchandise and drops from many of their favorite artists from the genre – past, present, and future including: Public Enemy, Ice Spice, Rae Sremmurd, Playboi Carti, Lil Wayne, Destroylonely, Ken Carson among others, alongside specially curated content and playlists from UMG artists and labels, Interactive lenses, a social content aggregator of HH50 related activity and map of HH50 events in the U.S. throughout 2023. The site will also include a special playlist generator where fans can build their own Hip-Hop playlists, with more to be added and announced throughout the anniversary year.
Speaking on the announcement, Alexandra Hinkle, Chief Marketing Officer, Global Consumer Marketing at UMG said, "Universal Music Group is incredibly excited to continue to support artists in celebration of the 50th Anniversary of Hip-Hop. As a cornerstone of art and culture, built by the power and voices of black artists, Hip-Hop's influence can be felt around the globe. This year we're reflecting back on those voices who built the genre and shining a light on the next generation of artists who will shape its future with the launch of HH50.com, a new fan-dedicated hub that highlights this historic moment in time, and gives fans an opportunity to look back, participate and interact with the celebrations. UMG is honored that multi-platinum, award winning artists Ja Rule, Ashanti and Jadakiss will commemorate this Golden Anniversary by lighting up the Empire State Building in gold and will be supporting this historic moment with a curated celebration meant to unite artists, influential VIPs, and key innovators in the world of Hip-Hop, followed by a series of other events and activity to support this historic anniversary."
Eric Alexander, VP, Head of Marketing Strategy, Global Consumer Marketing at UMG adds, "We chose New York to celebrate Hip-Hop at 50 because it is the birthplace of the genre and we are honored to light up the Empire State Building with Ja Rule, Ashanti, and Jadakiss. Following the ceremony, we'll move the celebration across the river to Brooklyn for a special event. This activation is the first of several that UMG will have throughout the remainder of the year to celebrate our artists and labels that have helped shape and redefine the genre over the past five decades."
Further events and activity from UMG's labels and artists will be announced throughout 2023.
For more go to HH50.COM
About Universal Music Group
At Universal Music Group, we exist to shape culture through the power of artistry. UMG is the world leader in music-based entertainment, with a broad array of businesses engaged in recorded music, music publishing, merchandising and audiovisual content. Featuring the most comprehensive catalogue of recordings and songs across every musical genre, UMG identifies and develops artists and produces and distributes the most critically acclaimed and commercially successful music in the world. Committed to artistry, innovation and entrepreneurship, UMG fosters the development of services, platforms and business models in order to broaden artistic and commercial opportunities for our artists and create new experiences for fans. For more information on Universal Music Group visit www.universalmusic.com
About the Empire State Building
The Empire State Building, the "World's Most Famous Building," owned by Empire State Realty Trust, Inc. (ESRT: NYSE), soars 1,454 feet above Midtown Manhattan from base to antenna. The $165 million reimagination of the Empire State Building Observatory Experience creates an all-new experience with a dedicated guest entrance, an interactive museum with nine galleries, and a redesigned 102nd Floor Observatory with floor-to-ceiling windows. The journey to the world-famous 86th Floor Observatory, the only 360-degree, open-air observatory with views of New York and beyond, orients visitors for their entire New York City experience and covers everything from the building's iconic history to its current place in pop-culture.  Learn more at www.esbnyc.com. Declared "America's Favorite Building" by the American Institute of Architects, the world's most popular travel destination by Uber, the #1 Attraction in the United States in Tripadvisor's 2022 Travelers' Choice Best of the Best, and the #1 New York City attraction by Lonely Planet, it welcomes more than 4 million annual visitors from around the world.
Since 2011, the building has been fully powered by renewable wind electricity, and its many floors primarily house a diverse array of office tenants such as LinkedIn and Shutterstock, as well as retail options like STATE Grill and Bar, Tacombi, and Starbucks. For more information and Observatory Experience tickets visit esbnyc.com or follow the building's Facebook, Twitter, Instagram, Weibo, YouTube, or TikTok.