UNIVERSAL MUSIC GROUP ENTERS INTO AGREEMENT TO ACQUIRE RS GROUP'S MUSIC CATALOGUE; ANNOUNCES STRATEGIC PARTNERSHIP
Bangkok, June 30, 2023 – Universal Music Group (UMG), the world leader in music-based entertainment, today announced they had entered into an agreement to acquire RS Group's vast music catalogue, the second-largest in Thailand. Comprising more than 10,000 master recordings and 6,000 copyright ownerships, publishing rights and licences dating from 1981-2022 and representing the work of more than 960 artists, the acquisition will form the core part of a new strategic partnership between RS Group and UMG.
The new partnership, 70%-owned by UMG and 30% by RS Group, will provide UMG with increased scale in one of the world's fastest-growing music markets. Thailand's recorded music sector's revenue grew by 20% in 2022 to surpass US$100 million for the first time ever according to IFPI's Global Music Report, 2022.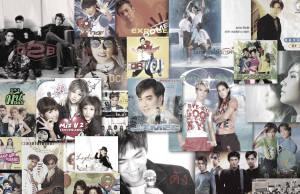 Upon close of the deal, UMG will also become RS Group's exclusive music service partner for new releases and new music repertoire worldwide. UMG will also receive exclusive rights of first refusal and matching rights to acquire new releases and repertoire.
Notable Thai artists included in the catalogue are, Dan-Beam (pop duo), James Ruangsak Loychusak (pop), Parn Thanaporn Wagprayoon (ballard diva), Stone Metal Fire (90s rock band), Ble Patumrach (country), Lydia Sarunrat Deane (R&B queen), Thanapol Intharit (rock), Four-Mod Kamikaze (pop).
The transaction and new partnership will dramatically increase UMG's exposure to the Thai market, with UMG becoming the second-largest player in that market.
Calvin Wong, Chief Executive Officer, Universal Music Southeast Asia & Senior Vice President of Asia commented: "I am extremely excited about the expanded role that this partnership will enable UMG to play in such a fast-growing and important music market. Thailand has huge untapped potential, with consumers who desire ever more quality music. Today's announcement will provide UMG with the scale to make a meaningful impact within the Thai music ecosystem and to benefit from its continued growth."
Surachai Chetchotisak, Chief Executive Officer, RS Public Company Limited commented: "RS Music will partner with world-class Universal Music Group (UMG) to form a joint venture to manage all RS' music copyrights. UMG is the world's largest music company with vision and leadership in the music industry. We are glad to partner with UMG, as a mean to expand opportunities for Thai music in the international market. It will also play a significant role in driving Thai soft power and mark the first stepping stone for future projects and businesses. This joint venture will create opportunities within music industry and strengthen RS Music even further."
About Universal Music Group
At Universal Music Group, we exist to shape culture through the power of artistry. UMG is the world leader in music-based entertainment, with a broad array of businesses engaged in recorded music, music publishing, merchandising and audiovisual content. Featuring the most comprehensive catalogue of recordings and songs across every musical genre, UMG identifies and develops artists and produces and distributes the most critically acclaimed and commercially successful music in the world. Committed to artistry, innovation and entrepreneurship, UMG fosters the development of services, platforms and business models in order to broaden artistic and commercial opportunities for our artists and create new experiences for fans. For more information on Universal Music Group N.V. visit www.universalmusic.com.