UNIVERSAL MUSIC GROUP ELEVATES ROEY HERSHKOVITZ TO VICE PRESIDENT OF SOUND & PICTURE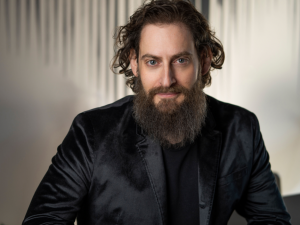 Hershkovitz Named Head of West Coast Studios and Member of UMG's Audio Leadership Team
Santa Monica, January 26, 2023 — Universal Music Group (UMG), the world leader in music-based entertainment, today appointed Roey Hershkovitz, a widely respected television producer and recording industry executive, to Vice President of Sound & Picture, a newly created role that will lead visual content capture across the company's iconic studios, develop new programming and build on the company's leadership in immersive audio.
In his new role, Hershkovitz will work across UMG's studios globally, as well as with Joe McCrossan, Head of Video Services, to develop new strategies that build upon the company's industry leading multimedia services and capabilities available to record labels, recording artists and songwriters.
Additionally, Hershkovitz has been named Head of West Coast Studios, where he will continue to oversee Capitol Studios and the legendary facility's ongoing renovation. He was also appointed to UMG's Audio Leadership team to drive creative innovation and audio quality, including Dolby Atmos Music adoption across a wide range of consumer products.
Hershkovitz will now be based out of Santa Monica and continue to report to Christopher Jenkins, Executive Vice President of Digital Studios, and Pat Kraus, Senior Vice President of Recording Studios & Archive Management.
Of the appointment, Jenkins said, "Roey has that rare combination of deep creative relationships and instincts, technical chops and a deep passion for both music and visual content. I'm thrilled that Roey will be able to apply his unique skills in this wider role."
Kraus said, "This new role recognizes Roey's broader contributions to operating our cutting-edge studios that provide unmatched resources for recording artists and songwriters to be their most creative. Roey continues to play a key role in driving audio innovation and the broader adoption of immersive audio across studio, consumer product and creative communities."
Hershkovitz said, "UMG's recording studios continue to drive audio and video innovation across the industry and play an essential role in developing the technology, tools and leadership that allow our labels and artists to provide fans with the leading catalog of music mixed in Dolby Atmos. We're now applying that same successful formula to how we capture, manage and distribute visual media and live streaming, providing even more ways for artists to engage with their fans. This is an exciting time in the industry and I'm thankful to Michael Frey, Chris and Pat for this tremendous opportunity."
Previously, Hershkovitz served as Vice President of Capitol Studios & Digital Studios, where he oversaw Capitol Studios' recording, tracking, mixing and mastering operations and label relations, as well as expanded the studios' audio-visual operations by integrating new technology. During that time, Hershkovitz built upon Capitol Studios' status as the premiere recording studio in the U.S., established Studio C as the benchmark globally for mixing music in Dolby Atmos and helped develop, in collaboration with Dolby Laboratories Inc., innovative Atmos Music mixing tools and techniques that have since become standardized across the record industry.
Prior to joining Universal Music Group and Capitol Studios, Hershkovitz had built a two decade-long career as a booker, producer and music production supervisor for Conan O'Brien across CONAN, as well as NBC's The Tonight Show and Late Night, where he developed deep experience working with gifted musical artists and their teams of managers and label executives. During his tenure at CONAN, Hershkovitz produced historic musical performances by iconic and legendary acts such as Bastille, Bon Jovi, Childish Gambino, Drake, Imagine Dragons, Norah Jones, The Killers, Kendrick Lamar, Pearl Jam, Paul Simon, U2, White Stripes, Neil Young and 5 Seconds of Summer, among many more.
Working his way up the ladder beginning as a show intern, Hershkovitz first joined O'Brien as a Post Production Supervisor, where he was instrumental in the show's transition to utilizing a digital editing process, as well as moving the show from standard-definition to high-definition resolution. He also served as Field Producer for many of the show's most memorable remote comedy segments ('Triumph The Insult Comic Dog at Star Wars,' 'Conan Goes to Finland') and separately served as Co-Producer for multiple episodes of NBC's hit show "The Office," which ran for nine seasons.
***