UNIVERSAL MUSIC GROUP APPOINTS TUHIN ROY TO VICE PRESIDENT OF NEW DIGITAL BUSINESS
Newly Created Role to Work with Early-Stage Digital Media Start-Ups
SANTA MONICA, JUNE 8, 2017 – Universal Music Group (UMG), the world leader in music-based entertainment, announced today that Tuhin Roy, an experienced digital entrepreneur, has been appointed, effective immediately, to the newly created po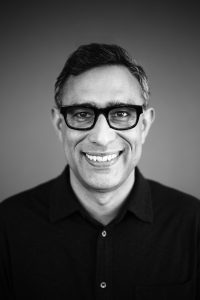 sition of Vice President of New Digital Business.
In the role, Roy will identify and work closely with start-ups in the early-stage digital media sector to develop strategic new digital business partnerships. He will be based at UMG's global headquarters in Santa Monica and report to Michael Nash, Executive Vice President of Digital Strategy.
In making the announcement, Nash said, "Tuhin brings an entrepreneurial orientation and an incredible wealth of experience to this role. I'm confident his deep knowledge of the start-up environment and investment community dynamics will magnify UMG's efforts to cultivate the digital ecosystem, promote innovation and establish new revenue streams."
"Universal Music's amazing track record of empowering entrepreneurs and embracing digital innovation, from early-stage start-ups to industry-leading companies, has enabled the music industry's return to growth," Roy said. "I'm thrilled to join Michael Nash's incredible team and I'm looking forward to advancing UMG's mission of working with entrepreneurs to develop exciting new digital services for music fans and artists around the world."
Roy is a digital media leader with more than 20 years of experience as a founder, board member, legal counsel and advisor helping companies grow their business organically and through M&A.
In 2003, Roy founded the Digital Rights Agency, a digital music and TV content aggregation company that he merged with the Orchard. In addition, Roy has served as an adviser to SXSW On, 8tracks and MediaLink. He recently co-founded Fanzy, a digital platform that enabled 25,000 brands and top music artists to reward fans on social media platforms.
Earlier, Roy served as General Counsel of Echo Networks, a digital music company acquired in early 2003 by a consortium of music retailers, where he was responsible for music industry relations. Roy previously practiced corporate and intellectual property law at Perkins Coie LLP in Menlo Park, California, where he represented technology companies in licensing and corporate finance matters. Before practicing law, Roy wrote and produced top-charted records for major record labels.
About Universal Music Group
Universal Music Group (UMG) is the world leader in music-based entertainment, with a broad array of businesses engaged in recorded music, music publishing, merchandising and audiovisual content in more than 60 countries. Featuring the most comprehensive catalog of recordings and songs across every musical genre, UMG identifies and develops artists and produces and distributes the most critically acclaimed and commercially successful music in the world. Committed to artistry, innovation and entrepreneurship, UMG fosters the development of services, platforms and business models in order to broaden artistic and commercial opportunities for our artists and create new experiences for fans. Universal Music Group is a Vivendi company. Find out more at: http://www.universalmusic.com.