UNIVERSAL MUSIC GROUP APPOINTS GRAHAM PARKER AS PRESIDENT OF U.S. CLASSICAL MUSIC LABELS
Parker to Oversee Company's Legendary Roster of Classical Music Labels, Now Part of Verve Label Group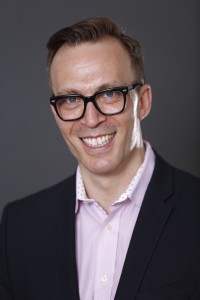 SANTA MONICA, May 24, 2016 – Universal Music Group, the world leader in music-based entertainment, today named Graham Parker, General Manager of WQXR, the most-listened to classical music radio station in the U.S. and a 2016 Peabody Award-winner for its Q2Music podcast, as President of its legendary roster of U.S. classical music labels, part of the Verve Label Group.
In this new role, Parker will oversee UMG's U.S. classical music labels including Deutsche Grammophon, Decca Records, Decca Classics, Mercury Classics, and distributed label ECM. Parker will be based in New York and report jointly to Dickon Stainer, President and CEO of Global Classics for Universal Music Group, and Danny Bennett, recently appointed President & CEO of Verve Label Group.
To accelerate Universal Music's classical music strategy, Parker will serve as the U.S. lead for the company's classical music initiatives to develop and promote emerging classical recording artists and composers on a global scale, working closely with Stainer, David Joseph, Chairman and CEO of Universal Music UK & Ireland and Frank Briegmann, President & CEO Central Europe & Deutsche Grammophon. In close co-ordination with this global team, Parker will develop digital strategies to bring U.S. Universal artists to the widest audiences possible, will deepen relationships with the leading ensembles and venues throughout the U.S., and explore new business opportunities for today's 21st century artists.
While at New York Public Radio, Parker oversaw and implemented ambitious initiatives to serve New York's thriving classical music scene with new programming, digital offerings, bold community engagement projects, and a robust roster of live events and live broadcasts including performances from Lang Lang to Rufus Wainwright, from its own studios to the stages of Carnegie Hall.
Bennett said, "Universal Music is home to some of the world's finest classical recordings and composers in history, as well as the world's cutting edge new artists. With Graham, we're adding an executive who has a proven track record of having his finger on the pulse of classical music and opera and who has made the genre accessible to a whole new audience through groundbreaking programming and digital innovation. I'm looking forward to working with Graham and together making an indelible impact in the world of classical music."
Added Stainer, "I'm delighted to welcome someone of Graham's stature and visionary approach to help expand classical music's reach and audience in the U.S. His arrival marks a moment of excitement and opportunity for artists and music fans in America and across the world."
"I've devoted my life to classical music and bringing this incredible genre to as wide an audience as possible," said Parker. "The opportunity to not only join the legendary catalog of Deutsche Grammophon and Decca, but to also be on the forefront of identifying the classical superstars of tomorrow, was too incredible to pass up. I'm humbled by this opportunity and I'm looking forward to working with Danny, Dickon, Michele Anthony and the entire UMG team."
About Graham Parker:
Graham Parker most recently was General Manager of WQXR and The Jerome L. Greene Performance Space and a Senior Vice President of New York Public Radio.
Over the past six years, Parker oversaw and implemented ambitious initiatives to serve New York's thriving classical music scene. During Parker's tenure, WQXR launched a new national series, Carnegie Hall Live; pioneered critically acclaimed festivals including Beethoven Awareness Month, Month of Mozart, and Bachstock; presented a broad range of live events; and implemented the highly successful WQXR Instrument Drive.
Parker has secured WQXR's role as a leading digital music source with WQXR's relaunched app, the growth of Q2Music (a channel dedicated to contemporary classical music), and the launch of Operavore, WQXR's 24/7 opera channel. In April 2016, WQXR's Q2Music podcast Meet The Composer won a Peabody Award, after only two years of its inception. Three years ago, Parker oversaw the launch of The Jonathan Channel, dedicated to the great American Songbook, with Jonathan Schwartz at the center.
Prior to WQXR, Parker was Executive Director of the Orpheus Chamber Orchestra. In his eight years with Orpheus, Parker played a critical role in securing the long term future for this world-class orchestra.
Parker holds a BSc (Hons) from Oxford Brookes University. He started his musical training on flute and piano, eventually taking up conducting when he arrived at college.
About Universal Music Group
Universal Music Group (UMG) is the world leader in music-based entertainment, with a broad array of businesses engaged in recorded music, music publishing, merchandising and audiovisual content in more than 60 countries.  Featuring the most comprehensive catalog of recordings and songs across every musical genre, UMG identifies and develops artists and produces and distributes the most critically acclaimed and commercially successful music in the world.  Committed to artistry, innovation and entrepreneurship, UMG fosters the development of services, platforms and business models in order to broaden artistic and commercial opportunities for our artists and create new experiences for fans.
Universal Music Group is a Vivendi company.  Find out more at: http://www.universalmusic.com.