Universal Music Group Appoints Giles Martin as Head of Audio & Sound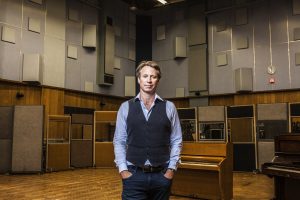 LONDON, October 22 2018 — Universal Music Group (UMG), the world leader in music-based entertainment, today announced that Giles Martin, the Grammy-winning producer, composer and arranger, has been appointed to a newly-created global role as Head of Audio & Sound, effective immediately.
In this position, Martin will lead UMG's exploration and adoption of emerging audio formats and consumer technology, inspiring artist creativity providing the best possible listening experience for fans. He will be based in UMG's Abbey Road Studios in London.
With a career characterised by studio experimentation and sound innovation, Martin will look at new audio technologies and potential partnerships with the most compelling innovators in the field. The role will see Martin bring audio fidelity to the heart of the music production process, encouraging artists signed to UMG's record labels to experiment in the company's world class spaces for composition and recording. These include UMG's flagship studios, Abbey Road, which was recently named UK Studio of the Year by the Music Producers Guild, and the legendary Capitol Studios in Los Angeles.
Martin's global role for UMG comes after a long association with Abbey Road Studios, where the multi-instrumentalist has worked extensively during his career as a successful music producer, composer, arranger and creative leader. His studio recordings, stage shows, TV and film works have been critically acclaimed and commercially successful across the globe, and in 2007 he won two Grammy awards for the soundtrack LOVE, an album of remixed Beatles music co-produced with his late father, the record-producing legend Sir George Martin.
Universal Music UK chairman and CEO David Joseph, says, "We've worked very closely with Giles through his work with The Beatles at Abbey Road and he's increasingly become part of the wider Universal Music family. As well as being an innovative and exceptionally versatile producer, he shares our passion for excellence in how music is heard. Giles' unique approach means that as formats and services change there's no-one better to ensure we are best-serving artists, producers and fans in terms of audio delivery."
Michael Frey, UMG's President, Global Supply Chain and Media Services, says, "By blending new technology with some of the best recording equipment crafted over the past 60 years, our artists and creative communities are able to tell their stories with audio and video in entirely new ways and then deliver those experiences to fans nearly instantly around the world. Over the past few years, UMG has made significant investments to expand our leadership position across this exciting area of music and video creation. Throughout this journey, I have had the pleasure and honor of relying on Giles' expertise, insight and creative vision to aid and guide our efforts. As an incredibly talented artist and producer himself, Giles instinctively sees the potential of what lies ahead and innately understands how to leverage technology to harness new forms of artistic expression."
Speaking about his new role Martin says, "The landscape of the way people listen to music has changed dramatically. This is an exciting time. New technology should ensure the artist can now connect directly with the listener and it's our job as the music industry to make sure that connection is as clear and direct as possible. UMG artists have the best recording facilities in the world. We need to encourage artists to innovate and create great sounding music and to make sure this can be heard by everyone in the best way possible. It's inspiring to be given the opportunity to work with an amazing team at UMG to push the boundaries of audio and sound for both the artist and the music lover."
Since Giles Martin's ground-breaking production work for LOVE, the record-breaking show that opened in Las Vegas in June 2006, he has been at the helm for a diverse range of music entertainment projects demonstrating his passion for sound experimentation. His film work has included the award-winning Ron Howard Beatles documentary feature The Beatles: Eight Days A Week — The Touring Years, Martin Scorsese's George Harrison: Living in the Material World and the British action franchise Kingsman. This year he has been producing music for the forthcoming Sir Elton John biopic Rocketman.
Martin produced tracks and served as executive producer on Sir Paul McCartney's 2013 album NEW and has been the producer in charge of recent Beatles remix packages including last year's Emmy Award-winning, 50th anniversary release of Sgt. Pepper's Lonely Hearts Club Band – critically acclaimed for its spectacular sound quality. Martin took his new Sgt Pepper mix into the immersive surround sound of the Dolby Atmos format, a feat he replicated a few months later with a new 30th anniversary mix of INXS' iconic album Kick.
Having played in bands and written jingles from an early age, Martin started his production career working with UK indie bands including Kula Shaker, Monorail and My Life Story. In 2004 he produced Hayley Westenra's multi-platinum album Pure, the UK's fastest-selling classical album of all time. Across a broad range of projects co-produced with his father, Martin has also worked with Jeff Beck, Kate Bush, Elvis Costello, Joni Mitchell and Sting. He was recently announced as Executive Music Director for INXS and their label Petrol Records, and he serves as the Sound Experience leader for the audio company SONOS.
About Universal Music Group
Universal Music Group (UMG) is the world leader in music-based entertainment, with a broad array of businesses engaged in recorded music, music publishing, merchandising and audiovisual content in more than 60 countries. Featuring the most comprehensive catalog of recordings and songs across every musical genre, UMG identifies and develops artists and produces and distributes the most critically acclaimed and commercially successful music in the world. Committed to artistry, innovation and entrepreneurship, UMG fosters the development of services, platforms and business models in order to broaden artistic and commercial opportunities for our artists and create new experiences for fans. Universal Music Group is a Vivendi company. Find out more at: http://www.universalmusic.com.