UNIVERSAL MUSIC GROUP APPOINTS GAUTAM SRIVASTAVA EXECUTIVE VICE PRESIDENT, HUMAN RESOURCES
Srivastava to Oversee Company's Global Human Resources Operations Spanning More than 60 Countries and Join the Executive Management Board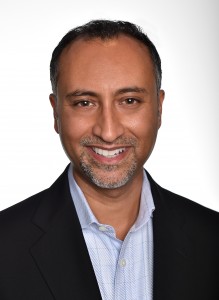 SANTA MONICA, May 26, 2016 – Universal Music Group (UMG), the world leader in music-based entertainment, announced today that Gautam Srivastava has been appointed Executive Vice President, Human Resources, effective May 30.
Srivastava will oversee all aspects of UMG's global human resources operations spanning more than 60 countries, including compensation and benefits, recruiting, people development, workforce and leadership planning, pensions, union and regulatory frameworks, information systems, and diversity initiatives. Srivastava will be based at the company's headquarters in Santa Monica, reporting to Lucian Grainge, Chairman and Chief Executive Officer of Universal Music Group. Srivastava will join UMG's Executive Management Board and also serve as a liaison to Vivendi, UMG's parent company, on human resources matters.
"At Universal Music Group, talent is at the heart of everything we do, whether that's signing the best recording artists and songwriters or attracting exceptional employees," Grainge said. "With Gautam, we are adding an executive who will accelerate our human resources functions while also serving a vital role in fostering employee development, creating a diverse workplace as well as recruiting a broad range of talent from many different industries to help our company evolve."
 "UMG is redefining what it means to be a music entertainment company by providing its artists and labels with new opportunities in film, television, and theatrical and live events; building out new technology and digital initiatives; and offering commercial support through branding, marketing and merchandise operations," said Srivastava. "The need to identify and develop employees and attract top talent has never been more important. I'm thrilled to work at UMG, where everyone shares a passion for music, developing artists and working collaboratively. I want to thank Lucian and my colleagues for this opportunity – you can't ask for a more exciting job."
Srivastava brings to UMG extensive leadership and operating experience in human resources and general management across large, global technology companies.
Before joining UMG, Srivastava was Senior Vice President, Chief Human Resources Officer at Shutterfly, Inc., an e-commerce photo publishing company.  Prior to Shutterfly, from 2009 to 2014, Srivastava was Senior Vice President, Chief Human Resources Officer and Chief Marketing Officer at LSI Corp., a datacenter storage and networking technology company, until its sale in May 2014.
From 2004 to 2008, Srivastava held several roles at Advanced Micro Devices, Inc., a global semiconductor company, including Vice President, Sales and Marketing and Managing Director of Middle East, Africa and Pakistan; Vice President, Sales and Marketing and Chief of Staff to the Chief Sales and Marketing Officer; and Director and then Vice President, Compensation and Benefits.
Prior to AMD, Srivastava was a Principal at Mercer Human Resources Consulting and earlier in his career, worked in several start-ups and in management consulting.
Srivastava holds a Bachelor of Arts in Business Economics from the University of California, Los Angeles.
About Universal Music Group:
Universal Music Group (UMG) is the world leader in music-based entertainment, with a broad array of businesses engaged in recorded music, music publishing, merchandising and audiovisual content in more than 60 countries.  Featuring the most comprehensive catalog of recordings and songs across every musical genre, UMG identifies and develops artists and produces and distributes the most critically acclaimed and commercially successful music in the world.  Committed to artistry, innovation and entrepreneurship, UMG fosters the development of services, platforms and business models in order to broaden artistic and commercial opportunities for our artists and create new experiences for fans. Universal Music Group is a Vivendi company. Find out more at: http://www.universalmusic.com