Universal Music Africa and African music icon Youssou NDour announce new global partnership
"From Africa to the World… Let's go Universal…" – Youssou NDour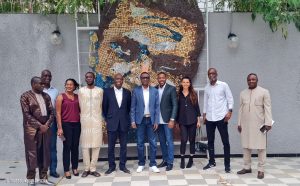 Dakar / Abidjan – Tuesday 12th October – Universal Music Africa (UMA), a division of Universal Music Group (UMG), the world leader in music-based entertainment and African music icon Youssou NDour, today announced an exclusive multi-year partnership agreement with the acclaimed and Grammy award winning singer and his company, Youssou Ndour & TBI Publishing S.A. An emblematic figure of the Senegalese musical landscape, Youssou NDour's distinguished global career has made him one of the most famous and recognizable voices in Africa and around the world.
Speaking on his collaboration with Universal Music Africa, Youssou NDour said, "From Africa to the World… Let's go Universal…".
Franck Kacou, Managing Director, Universal Music Africa said, "It is an honor and a great pride for Universal Music Africa, to have gained the trust of such a monumental figure in African music culture. Youssou NDour has inspired multiple   generations of music fans, each time with his impressive relevance, social resonance and most importantly with his timeless songwriting. His incomparable voice is a strong symbol of the direction we have taken over the past couple of years with UMA, establishing the company as a true home for African artists and music, and a bridge to audiences around the world through our network of labels around the world. I am convinced that Youssou NDour's future releases with UMA will add to his already long list of international successes at the service of the continent and continue to build on his powerful and lasting artistic legacy.".
The partnership between Youssou NDour and UMA, will begin with the surprise release of a new album on November 12th, 2021.
ABOUT UNIVERSAL MUSIC AFRICA
Universal Music Africa was created in 2018 and is based in Abidjan, Côte D'Ivoire, before adding local teams in Senegal and Cameroon in recent years. The division covers 25 French, Spanish and Portuguese speaking countries and aims to develop and structure the entire music industry in an African market characterized by its dynamism, diversity, and growth potential. Universal Music Africa is deploying a music production and publishing business on the continent, as well as a live production and events division and an agency specializing in music and brand partnerships. Universal Music Africa develops and operates the entire Universal Music Group catalog across the region, alongside a domestic catalog of more than 100 artists, including some of the continent's most popular and influential artists under several labels, including Def Jam Africa and Motown Gospel Africa.
ABOUT UNIVERSAL MUSIC GROUP
At Universal Music Group (EURONEXT: UMG), we exist to shape culture through the power of artistry. UMG is the world leader in music-based entertainment, with a broad array of businesses engaged in recorded music, music publishing, merchandising and audiovisual content. Featuring the most comprehensive catalogue of recordings and songs across every musical genre, UMG identifies and develops artists and produces and distributes the most critically acclaimed and commercially successful music in the world. Committed to artistry, innovation and entrepreneurship, UMG fosters the development of services, platforms and business models in order to broaden artistic and commercial opportunities for our artists and create new experiences for fans.