Tom March and Ben Mortimer appointed co-Presidents of Polydor Records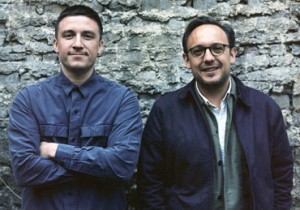 London, May 16th, 2016 – A new era is unfolding at one of the UK's leading record labels with Universal Music UK Chairman & CEO David Joseph announcing the appointment of Tom March and Ben Mortimer as co-Presidents of Polydor.
Mortimer is stepping up after four years as A&R Director at Polydor while March is joining from sister Universal Music label Virgin EMI where he was General Manager. The pair are being reunited having had a three-year golden run at Island Records where they worked together on the global breakthrough of Florence + The Machine.
David Joseph, who spent his first 10 years with Universal at Polydor, says: "Universal Music has built its success on promoting from within and in Ben and Tom we have two exceptionally creative executives with a shared ability to truly realise their artists' vision. They have already proved they are a great team and I know their drive and energy will take Polydor into another world-beating era."
Since becoming Polydor's A&R Director in 2012, Mortimer's signings have included Years & Years – the UK's biggest breakthrough band of the past year – and the Grammy-nominated Haim. He has also worked closely with James Blake.
Mortimer joined Polydor from Island where he signed Florence Welch, starting his ongoing and hugely successful association with the Brit-winning and six-times Grammy-nominated artist. Prior to joining Island in 2009 Mortimer spent six years in A&R at Virgin Records where he signed Jamie T and worked with The Chemical Brothers and Massive Attack.
Mortimer started out as a music journalist at The Face and Mixmag at the turn of the millennium, during which time he first met Tom March, then a young publicist at PR agency The Darling Department working with artists including Fatboy Slim, Royksopp and Mylo.
March's career has progressed as quickly as Mortimer's. He moved from The Darling Department to Island in 2006, starting as a junior product manager and moving swiftly up the ranks to become Island's head of marketing before he left in 2013 to join his long time boss Ted Cockle for the launch of Virgin EMI.
As well as Florence + The Machine, March has worked with artists including Queen, Paul Weller, Jessie J, Mika, Tom Jones, James Bay, Avicii, Lorde, Jamie T, Katy Perry, Halsey, Chemical Brothers and Naughty Boy.
March's inventive approach to artist marketing is widely recognised. Cockle and March were joint winners of the Music Week Artist Marketing Campaign of the Year in 2008 for Mika's multi-million-selling debut album Life In Cartoon Motion and March has been nominated subsequently for his work with Florence and Jessie J as well as his catalogue campaign for Queen. The marketing campaign for James Bay, overseen by March, received another nomination at this year's Music Week awards.
Polydor's recent history in the UK has been punctuated by domestically-signed success stories such as Snow Patrol, Take That, Lana Del Rey, Duffy, Girls Aloud, Scissor Sisters and Ellie Goulding alongside mullti-million selling UK campaigns for US artists such as Eminem, Black Eyed Peas and Lady Gaga thanks to its long time association with UMG US label group Interscope Geffen A&M. Polydor also has an astonishing catalogue which includes such luminaries as ABBA, The Jam and The Who.
March and Mortimer take the helm at Polydor as the label enjoys one of its most successful periods in recent years with The 1975, Ellie Goulding and Years & Years all featuring among the Top 20 artist albums of 2016.
Mortimer says: "Having been at Polydor for four years, I know how talented our artists are, and how creative and dynamic the team is. I know Tom will only benefit Polydor by bringing some of that energy, passion and drive he's so renowned for."
March says: "I've always admired Polydor as a label that consistently breaks domestic artists while having an incredibly strong relationship with its iconic US sister label Interscope. It's a tradition we will continue: the best A&R, the best promotion, the most exciting and forward thinking campaigns provided to our artists."
About Universal Music Group
Universal Music Group (UMG) is the world leader in music-based entertainment, with a broad array of businesses engaged in recorded music, music publishing, merchandising and audiovisual content in more than 60 countries.  Featuring the most comprehensive catalog of recordings and songs across every musical genre, UMG identifies and develops artists and produces and distributes the most critically acclaimed and commercially successful music in the world.  Committed to artistry, innovation and entrepreneurship, UMG fosters the development of services, platforms and business models in order to broaden artistic and commercial opportunities for our artists and create new experiences for fans.
Universal Music Group is a Vivendi company.
Find out more at: http://www.universalmusic.com.