Music Health Teams Up with Walgreens to Offer Vera Music App that Helps Stir Memories in Dementia Patients with Personalized Playlists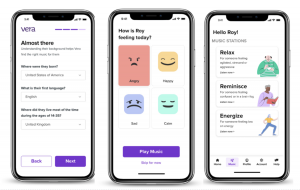 New app temporarily improves patients' quality of life and helps caregivers deliver more effective care with ease

BERKELEY Calif., December 15, 2022 – Music Health Inc. today announced that its music wellness app, Vera, is now available through Walgreens Find Care® to provide people living with different forms of dementia with convenient and affordable access to personalized music from their computers and smart devices. Vera is a new app that supports caregivers by offering the person in their care a custom-made "soundtrack of their lives" that can trigger long-lost memories which may temporarily improves cognitive function, motor function, mood and sleep, while reducing agitation, aggression and other negative symptoms of dementia.
"We've built Vera to know and find the music that means the most and has the biggest impact for each person living with dementia. It acts as a music detective that re-discovers songs they used to love a long time ago but may have forgotten about, which their caregivers may have never heard of, and their families may not even know of," said Music Health Co-founder, Stephen Hunt.
Using AI technology, Vera discovers the soundtrack of someone's life by combining information about their cultural background (such as where they grew up, their age and first language), with details about their music taste, such as a few favorite artists and genres. A recent study published in Alzheimer Disease and Associated Disorders found that using music therapy helped improve social engagement among people with dementia and their caregivers.[i]The intervention also lowered caregiver distress.
Through a strategic, industry-first agreement, Vera users are able to access the entire catalog of Universal Music Group (UMG), the world's leading music-based entertainment company, to develop personalized music stations specifically designed to improve the lives of people living with dementia.
"We are focused on empowering new therapeutic applications of music that improve the lives of people around the world, and we're thrilled this innovative partnership will provide even more caregivers with access to Music Health's Vera app and the personalized music selections that resonate with people living with Alzheimer's and other forms of dementia," said Michael Nash, UMG's EVP, Chief Digital Officer.
Walgreens Find Care helps customers access in-person and virtual healthcare expertise from the comfort of their own home. Through this online marketplace, patients can connect with more than 75 local and national providers, offering more than 100 services and treatment for more than 120 conditions. Walgreens Find Care helps patients book appointments for a range of services like urgent care, telehealth, mental health, lab testing, physician house calls, hearing and optical services.
About Music Health
Music Health is a mission-driven company with a world-class team of musicologists, scientific experts, serial founders and operators. With our Music Wellness Technology (MWT™), we are creating a world where everybody has access to personalized music-as-a-therapy. By building digital experiences on top of MWT™, we are creating a suite of digital experiences at the intersection of music therapy and digital health to improve mental health across a variety of conditions with ground-breaking, personalized innovation. We are transforming dementia care first.
Our first digital experience is called Vera (www.veramusic.com) – a music intervention tool to manage and prevent BPSD (Behavioral and Psychological Symptoms of Dementia – like aggression, agitation or depression) which impacts 60 million families and close to 200 million caregivers.
Music Health has been selected from over 1,300 companies to participate in the prestigious UC Berkeley SkyDeck accelerator program.  The company will graduate with a pitch to the early-stage investment community at the end of September in Berkeley.
For more information visit Music Health at www.musichealth.ai
About Universal Music Group
At Universal Music Group, we exist to shape culture through the power of artistry. UMG is the world leader in music-based entertainment, with a broad array of businesses engaged in recorded music, music publishing, merchandising and audio-visual content. Featuring the most comprehensive catalog of recordings and songs across every musical genre, UMG identifies and develops artists and produces and distributes the most critically acclaimed and commercially successful music in the world. Committed to artistry, innovation and entrepreneurship, UMG fosters the development of services, platforms and business models in order to broaden artistic and commercial opportunities for our artists and create new experiences for fans. For more information on Universal Music Group visit www.universalmusic.com
***
[i] Schafer R, Karstens A, Hospelhorn E, et al. Musical Bridges to Memory: A Pilot Dyadic Music Intervention to Improve Social Engagement in Dementia. Alzheimer Disease and Associated Disorders: August 25, 2022 – Volume – Issue – 10.1097. https://journals.lww.com/alzheimerjournal/Abstract/9900/Musical_Bridges_to_Memory__A_Pilot_Dyadic_Music.25.aspx