The Music Den Goes Global with Universal Music Group
The Music Den at FCAD, Ryerson's Faculty of Communication and Design, has joined forces with Universal Music Group's Accelerator Network to develop the next generation of music startups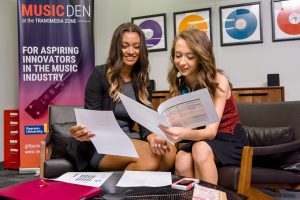 TORONTO, CANADA/ SANTA MONICA, U.S., October 4, 2018 — Universal Music Group (UMG) and The Music Den at Toronto's Ryerson University today announced a new collaboration that will see The Music Den join UMG's Accelerator Engagement Network to develop the next generation of Canadian music startups.
As the first Canadian member of the Accelerator Network, the Music Den will be Toronto's international portal for music-focused startup companies – connecting Toronto's close knit music community of artists, producers and technology specialists with the resources of Los Angeles and the world. The Music Den unlocks the ecosystem of Ryerson's zone network for students, graduates and the wider community, in partnership with the DMZ, the top-ranked university-based incubator in the world for tech entrepreneurs.
UMG, the world leader in music-based entertainment, is seeking to substantially increase the number of new music-related startups through the first-of-its-kind UMG Accelerator Engagement Network.  Through its work with tech accelerators in key entrepreneurial markets around the world, UMG helps promote the development of innovative new music-related startups by providing expert mentorship, industry insights and other support.
"We are delighted to work with the Music Den and DMZ as the first Canadian members of our accelerator network, and we are looking forward to engaging with the Toronto and larger Canadian startup ecosystem to foster the next generation of music-related startups," says Tuhin Roy, Senior Vice President, New Digital Business and Innovation at Universal Music Group.
"Already a local success, the Music Den will now act as a portal for the Toronto music community to the international UMG accelerator network," says Charles Falzon, Dean of FCAD. "Tech startups are the new rock stars, and the next revolutionary music technology is being developed right here."
"Canada is bursting with talent – this partnership is a natural extension of our laser focus on innovation. We look forward to collaborations that will yield success for our artists and partners locally and internationally," added Jeffrey Remedios, President and CEO, Universal Music Canada.
Other members of UMG's accelerator network include Axel Springer and Porsche's Berlin-based accelerator Plug and Play; LeanSquare, a music technology accelerator launched by the Liege, Belgium-based investment firm; NYC MediaLab, which runs programs for student and faculty digital media entrepreneurs at New York-area universities; Seoul, Korea-based Sparklabs; and China Accelerator based in Shanghai.
About The Music Den at FCAD, the Faculty of Communication and Design
Located in Ryerson University's Transmedia Zone, The Music Den is a free incubation program that provides guidance and support to entrepreneurs and innovators focused on the music industry. They offer community, resources, business advice and mentorship to budding entrepreneurs, technologists and service providers who are passionate about creating innovative tools and services for the music industry. Notable graduates from The Music Den include – Sodatone and Jamstack.
FCAD, the Faculty of Communication and Design, is Ryerson University's creative innovation hub. Home to nine of Canada's premiere schools in media, communication and design, FCAD provides unique experiential programs in undergraduate and graduate study and is home to three entrepreneurial zones.
About The DMZ
The DMZ is a leading tech accelerator headquartered in Toronto, Ontario that helps high-potential startups grow and scale to world-class businesses. Also supporting ideation and validation stage startups, the DMZ's incubator program has been ranked number one in the world by UBI Global. Since 2010, the DMZ has helped 357 startups raise over $517 million and foster more than 3,431 jobs. For more information about the DMZ, visit www.ryerson.ca/dmz
About Universal Music Group
Universal Music Group (UMG) is the world leader in music-based entertainment, with a broad array of businesses engaged in recorded music, music publishing, merchandising and audiovisual content in more than 60 countries. Featuring the most comprehensive catalog of recordings and songs across every musical genre, UMG identifies and develops artists and produces and distributes the most critically acclaimed and commercially successful music in the world. Committed to artistry, innovation and entrepreneurship, UMG fosters the development of services, platforms and business models in order to broaden artistic and commercial opportunities for our artists and create new experiences for fans. Universal Music Group is a Vivendi company. Find out more at: http://www.universalmusic.com