KINGSHIP, THE SUPERGROUP SIGNED TO 10:22PM, SELLS OUT ENTIRE NFT COLLECTION OF 5,000 ACCESS-ENABLED KEY CARDS THAT UNLOCK VIRTUAL WORLD, EXPERIENCES, PRODUCTS AND MORE
Collection Charts No. 1 on OpenSea's Music Chart and Ranks as the Marketplace's No. 1 Trending NFT Collection Across All Categories on Release Day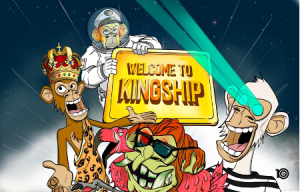 SANTA MONICA, CA – July 18 , 2022 — KINGSHIP, the supergroup signed to 10:22PM, sold out their entire collection of 5,000 access-enabled Key Cards in the form of non-fungible tokens (NFTs) that will allow collectors to access the group's virtual world as well as unlock, products, experiences and a token-gated community.  The Key Cards became available to mint starting Thursday, July 14, selling out two hours after the release of the final wave on Friday, July 15.
The collection ranked No. 1 on OpenSea's Music Chart and ranked as the marketplace's No. 1 Trending NFT collection across all categories on release day.  This marked the first time OpenSea had a special reserve offered at the same time as the primary mint for sale directly through the OpenSea marketplace, with NFTs #1-#300 selling out in minutes.  Blue Chip NFT holders accounted for 27% of the overall sales, averaging 2 NFTs per holder.  At the time of this writing, current floor price of a KINGSHIP NFT in the secondary market exceeds its primary sale price and has reached prices floors equivalent to 2x its primary sale price.
 KINGSHIP consists of three rare Bored Apes and a rare Mutant Ape: Captain (vocals, bass), KING (lead vocals), Arnell (beats, producer, drums) and Hud (guitar, keyboards, vocals). The group's newly revealed origin story, map,  and additional Key Card details are available on the group's website, Discord and Twitter.

"I'm grateful to our team, partners, and to the community for this incredibly successful sold-out mint," said Celine Joshua, founder of 10:22PM and the creator of KINGSHIP. "We're artist world building with blockchain technology, creativity, and speed. The sold-out genesis Key Card is only the beginning of our new journey, together."
The collectible Key Cards feature different members of KINGSHIP and contain unique attributes, some more rare than others, that will be revealed over time. In addition to membership to the virtual world, located on an island far away from the swamp where Captain, KING, Arnell and Hud were born, the Key Cards will also unlock exclusive access to music, content, products, and a token-gated community. Only Key Card holders can access a special token-gated channel recently launched in the group's Discord.
KINGSHIP is in the process of building four Towers on the Island, one for each member of the band and each with its own unique properties and powers. Each member's Key Card will provide access to a specific member's Tower. By acquiring Key Cards for all four members, holders will gain entry to the floating villa above the Towers, where the magic really happens. The art on the Key Cards will be revealed on Tuesday, 7/19.
The KINGSHIP team has quickly grown to include celebrity animator Jack Lanza and well-respected NFT collector Jimmy McNelis, a.k.a. J1mmy.eth. KINGSHIP, whose Bored Ape characters include rare Golden Fur and Blue Beams Apes, was created by Joshua, who recruited the members of the group from McNelis. In February, 10:22PM announced Manager Noët All (Bored Ape #5537) as KINGSHIP's manager.
Images, animation, logos and other KINGSHIP visual assets can be found here.
For more information on KINGSHIP and Key Cards:
Website: KINGSHIP.io
Discord https://discord.gg/kingship
Twitter https://twitter.com/therealkingship