GRAMMY WINNING MUSICIAN, SONGWRITER, PRODUCER & DIRECTOR ANDERSON .PAAK LAUNCHES NEW LABEL VENTURE, APESHIT INC. IN PARTNERSHIP WITH UNIVERSAL MUSIC GROUP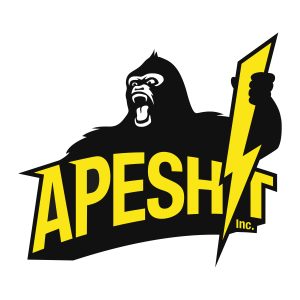 (LOS ANGELES, November 2, 2021) – Four time Grammy Award winner Anderson .Paak is one of today's most prolific artists, working as an acclaimed musician, songwriter, producer and director and crossing a wide spectrum of creative content development. .Paak can now add "label head" to his many accomplishments, as he unveils APESHIT INC., a new record label, launched in collaboration with Universal Music Group (UMG), the world leader in music-based entertainment.
"I wanted to start a label that sets fire to a new generation of artists, who can play while performing," said .Paak. "This label is going to be about passion, about feeling, about honesty.  It's about respect for the culture and art and it's about heart."
With .Paak at the helm, his vision is to create a label that will showcase all genres of artists and push musicians that play instruments to the forefront. The label will look to raise the bar on music with its selection of artists, no gimmicks, no button-pushing, just raw talent. "I was going to shows and realized that less and less I was seeing actual performers," said .Paak.  "Where is the next generation that can play instruments?? I know they're out there – don't sell your instruments, this label wants to hear you!!"
Referring to the label's name, .Paak replied, "APE stands for Anderson .Paak Empire.  And, well, we on some other shit out here in this music business jungle, so APESHIT!"
This vision found a natural partner in Sir Lucian Grainge, Chairman & CEO of Universal Music Group, "UMG has always strived to be a home for music's best creators, innovators, disrupters and entrepreneurs, and one that operates globally to help artists expand their creative and commercial opportunities. Anderson .Paak has consistently created award-winning, culture shifting music and we are truly excited to work together to bring his bold and infectious vision for this new label to life."
APESHIT INC. will be based in Los Angeles and will announce details of the label's debut signings and releases shortly. UMG will provide global support for APESHIT INC. artists and releases through its extensive network of divisions worldwide.
Find them on social:
IG: @APESHITINC
TW: @APESHITINC
FB: @APESHITINC
TikTok: @APESHITINC
About Anderson .Paak:
Born Brandon Paak Anderson in Oxnard, California, as a teen he played drums in his church Band. His transformation into Anderson .Paak, with his debut album Venice and a sophomore release, 2016's Malibu met with universal rave reviews. .Paak is now a 4x GRAMMY Award winner, producer, songwriter, artist & director. Anderson released his highly regarded 2020 single "Lockdown" on Juneteenth. Inspiration for the song came from .Paak's participation in a Los Angeles protest against police brutality. .Paak won the GRAMMY Award for Best Melodic Rap Performance of "Lockdown" and the politically charged video directed by Dave Meyers, garnered .Paak a GRAMMY nom for Best Music Video.  "Lockdown" was featured on a multitude of "Best Of" 2020 lists from NPR, The FADER, Complex and President Barack Obama's annual "Favorite Music" list. In October 2020, .Paak was named as Vans' first ever Global Music Ambassador. The artist has an ongoing partnership with the iconic brand that includes exclusive footwear and accessory collections inspired by .Paak's Southern California roots. His directing credits now include the highly regarded Bonnie and Clyde-esque music video for Leon Bridges' "Motorbike." Most recently, .Paak has joined fellow artist Bruno Mars as one half of the R&B superduo, Silk Sonic. Since March 2021, the pair have released several songs, with their debut single "Leave The Door Open" garnering over 460 million streams, 350 million official video views, and receiving critical acclaim. The multi-hyphenate superstar will now use his platform to propel new talent into the spotlight with the creation of his very own label APESHIT INC. teaming with UMG.
About Universal Music Group:
At Universal Music Group, we exist to shape culture through the power of artistry. UMG is the world leader in music-based entertainment, with a broad array of businesses engaged in recorded music, music publishing, merchandising and audiovisual content. Featuring the most comprehensive catalogue of recordings and songs across every musical genre, UMG identifies and develops artists and produces and distributes the most critically acclaimed and commercially successful music in the world. Committed to artistry, innovation and entrepreneurship, UMG fosters the development of services, platforms and business models in order to broaden artistic and commercial opportunities for our artists and create new experiences for fans.