GLOBAL SUPERSTAR ANITTA SIGNS TO REPUBLIC RECORDS IN PARTNERSHIP WITH UNIVERSAL MUSIC LATIN ENTERTAINMENT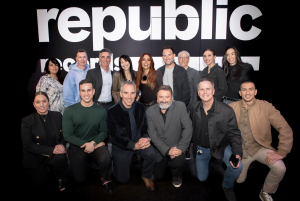 New York, April 27, 2023 – One of the 21st century's boldest, international superstars record-breaking global icon Anitta has signed to Republic Records in partnership with Universal Music Latin Entertainment—as announced today.
The news follows on the heels of her nomination in the category of "Best New Artist" at the 2023 GRAMMY®Awards as well as a string of history-making moves, including achieving Guinness World Records® as the "First Solo Latin Artist to Reach #1 on Spotify Globally" and the 2022 winner of Best Latin at the VMAs, EMAs and AMAs. Meanwhile, her 2022 multilingual opus, Versions of Me, tallied billions of streams and claimed spots on year-end best album lists by Billboard, Rolling Stone, Stereogum, UPROXX, Variety, and more.
About the signing, Anitta shared, "After being in this business for many years, I wanted to find partners that work like a family. After meeting with Monte, Wendy, their team at Republic, and Jesus Lopez I was blown away. Their passion, innovation, creativity and vision is incredible.  I not only felt so connected to them as an artist, but also on a human level. I knew immediately, I was home."
 S10 Entertainment Founder and CEO Brandon Silverstein and Manager to Anitta said, "Monte, Wendy, Jesusand the entire Republic, UMLE and worldwide UMG team had such an immediate and strong bond with Anitta, it was clear they understood her vision and wanted to help her execute on a global scale. I look forward to the future and can't wait for Anitta's next chapter."
Republic Records co-president Wendy Goldstein added, "We've all admired Anitta from afar for a long time. She has catalyzed the explosion of Latin music as one of its most important artists. She's kept Brazil close to her heart at all times and given her country an incredible voice in the global arena. What she's doing now musically is nothing short of mind-blowing, and we can't wait to release it."
Universal Music Latin America and Iberian Peninsula Chairman & CEO Jesús López said, "Everyone in this team led by Anitta, with S10, Republic and UMLE, have a clear goal: to write a new successful chapter of Latin music worldwide. Anitta has all the artistic and human qualities to be the most successful Brazilian artist in the world.  We feel very grateful for this opportunity, thank you Anitta for placing your trust in us"
Stay tuned for more news and announcements from Anitta coming soon.
About Anitta
Since breaking through in Brazil six years ago, Grammy-nominated global superstar Anitta has become the leading artist of a new generation of Latin American music. Anitta's first single of 2022, "Envolver," became the biggest solo debut by a Brazilian artist in the history of the Spotify Global Chart and broke Anitta's record by reaching #1 on iTunes in 19 countries. She also released her latest album Versions of Me in April 2022. The 15-track album was released in Spanish, English, and Portuguese and holds the record of biggest streaming week for a Brazilian artist on Spotify. It now has surpassed 1 billion streams on Spotify. Last summer, she won a 2022 MTV Music Video Award® in the category of "Best Latin" for "Envolver," further making history and earning her second Guinness World Record as the "first Brazilian solo artist to win the MTV VMA for Best Latin (female)." The win followed an explosive performance by Anitta, who made her VMA broadcast performance debut with "Envolver." In 2019, she also won "Best Female Artist" at the Latin AMAs. Starting in 2014, Anitta was named "Best Brazilian Act" at the MTV Europe Music Awards for five consecutive years.
About Republic Records
A division of Universal Music Group, the world's leading music company, Republic Records has been recognized by Billboard as the industry's #1 label over the last 10 years. It is home to an all-star roster of multi-platinum, award-winning legends and superstar artists such as Ariana Grande, Billy Porter, Bo Burnham, Clairo, Coi Leray, Conan Gray, Daddy Yankee, Drake, Eddie Vedder, G Herbo, Glass Animals, Florence + the Machine, Greta Van Fleet, Hailee Steinfeld, Jack Johnson, James Blake, James Bay, Jessie J, Jimmy Fallon, John Legend, John Mellencamp, Jonas Brothers, Julia Michaels, Kid Cudi, Kim Petras, Lil Wayne, Lorde, Metro Boomin, NAV, Nicki Minaj, Of Monsters and Men, Pearl Jam, Post Malone, Seth MacFarlane, Stevie Wonder, Swedish House Mafia, Taylor Swift, The Weeknd, Twice, TXT, and more. Founded by brothers and chief executives Monte and Avery Lipman, it is also comprised of innovative business ventures, including American Recordings, Boominati Worldwide, Brushfire, Casablanca Records, Cash Money, Federal Films, HYBE, Imperial, JYP, Lava Records, Mercury Records, Republic Records: Kids & Family, Republic Nashville, Universal Arabic Music, Uptown Records, Victor Victor, Wicked Money Family, XO, Young Money, among others.