GLOBAL CITIZEN AND UNIVERSAL MUSIC GROUP RELEASE ONE WORLD: TOGETHER AT HOME THE ALBUM
The 79-Song Album Features Performances from the Historic One World: Together At Home Online and Broadcast Special Event
Available Immediately Across Amazon Music, Apple Music, Spotify and TIDAL
Associated Proceeds from Artists, Record Labels and Streaming Services Will be Donated to Global Citizen in support of the COVID-19 Solidarity Response Fund for the World Health Organization, Powered by the UN Foundation
NEW YORK, April 21, 2020 —Global Citizen, a movement of engaged citizens who are using their collective voice to end extreme poverty by 2030, and Universal Music Group (UMG), the world leader in music-based entertainment, released the soundtrack to the historic One World: Together At Homeonline and broadcast special event in support of the COVID-19 Solidarity Response Fund for the World Health Organization, powered by the United Nations Foundation.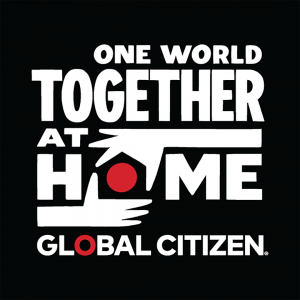 One World: Together At Home The Album, distributed by Universal Music Group, is available immediately across global music streaming services Amazon Music, Apple Music, Spotify and TIDAL.
Associated proceedsfrom streaming of the One World: Together At HomeThe Album, generated by the services, recording artists, record labels including those of UMG, Warner Music Group, Sony Music Entertainment, Big Machine Label Group and Ultra Music, as well as some other rightsholders, will be donated to Global Citizen in support of the COVID-19 Solidarity Response Fund for the World Health Organization, powered by the UN Foundation.
Hugh Evans, Co-Founder and CEO of Global Citizen, commented, "With the generous support of artists, record labels and the world's biggest streaming services, One World: Together At Home The Albumwill continue to generate support for the healthcare and other frontline workers around the world who are helping to save lives. With this album, fans will be able to revisit their favorite performances, while those who may have missed the live event will be able to experience the community created by this historic global event."
One World: Together At Homewas a historic, eight-hour cross-platform global special organized by Global Citizen, WHO and Lady Gaga that celebrated and supported healthcare workers and others on the frontlines as they lead the fight against the COVID-19 pandemic. The broadcast, carried on more than sixty networks and nine digital platforms around the world, included leading global health experts alongside exciting performances by the world's top artists and comedians.
With Lady Gagasetting the show's creative direction and curating the exceptional line up, the event was simultaneously broadcast in the U.S. on ABC, CBSand NBCand hosted by the networks' late-night hosts Stephen Colbert, Jimmy Fallonand Jimmy Kimmel. The album features some of music's biggest names including Billie Eilish, Jennifer Hudson, Elton John,Juanes, Lizzo, Jennifer Lopez, Paul McCartney, Kacey Musgraves, The Rolling Stones, Taylor Swift, Keith Urban,Eddie Vedderand Stevie Wonder, among many, many more.
Contributions will go directly to the COVID-19 Solidarity Response Fund to support and equip healthcare workers around the world. WHO is positioned to lead and coordinate the global response and support in particular countries where health systems are weaker.
As of April 7, the WHO has purchased and shipped more than 2 million pieces of personal protective equipment (PPE) to 133 countries. This has included more than 970,000 N95 masks, 1 million boxes of gloves, 115,000 gowns and 34,000 face shields. The WHO has also shipped 1.5 million diagnostic kits to 126 countries, with shipments to another 10 countries. With over 7,000 staff across 150 countries, the World Health Organization (WHO) has been positioned to lead and coordinate the global response, aiding critical prevention, detection, and response efforts to help the most vulnerable and at-risk countries to prepare and respond to the pandemic.
You can visit www.globalcitizen.com/togetherathometo take actions to help stop the spread of COVID-19. To date, Global Citizens from over 130 countries around the world have taken tens of thousands of actions in support of the COVID-19 Solidarity Response Fund for the World Health Organization, powered by the  UN Foundation.
One World: Together At Home The Album
Smile — Lady Gaga
Lean on Me / Love's in Need of Love Today — Stevie Wonder
Lady Madonna — Paul McCartney
Rainbow – Kacey Musgraves
I'm Still Standing — Elton John
Safety Dance — Jimmy Fallon & The Roots
Carnaval — Maluma
What a Wonderful World — Camila Cabello & Shawn Mendes
River Cross – Eddie Vedder
A Change is Gonna Come — Lizzo
You Can't Always Get What You Want — The Rolling Stones
Higher Love — Keith Urban
African Giant / Hallelujah — Burna Boy
People — Jennifer Lopez
Stand by Me — John Legend & Sam Smith
Wake Me Up When September Ends — Billie Joe Armstrong
Sunny (feat. FINNEAS) — Billie Eilish
Soon You'll Get Better — Taylor Swift
The Prayer — Andrea Bocelli, Céline Dion, John Legend, Lady Gaga & Lang Lang
Rise Up — Andra Day
Black and White — Niall Horan
Aaj Bhi — Vishual Mishra
Purple Hat — Sofi Tukker
The Bones — Hozier & Maren Morris
Mad World — Adam Lambert
I Will Never Let You Down — Rita Ora
Rainbow — Kesha
Nocturne in B Flat Minor, Op. 9, No. 1 — Lang Lang & Gina Alice Redinger
No Me Doy Por Vencido — Luis Fonsi
Memory — Jennifer Hudson
Drive — Black Coffee & Delilah Montagu
Brightside — The Killers
Sajna Ve — Lisa Mishra
Stolen Dance — Milky Chance
See You Again — Charlie Puth
Coffin — Jessie Reyez
Troublemaker — Picture This
Flashlight — Jessie J
The Light — Common
Robarte Un Beso — Sebastián Yatra
I Want to Hold Your Hand — Ben Platt
Together We are One — Delta Goodrem
I Save the World the Day — Annie Lennox
I Shall Believe — Sheryl Crow
Más Futuro Que Pasado — Juanes
Love Me Like You Do — Ellie Goulding
People, I've Been Sad — Christine and the Queens
Everybody's Got to Learn Sometime — Zucchero
Better Together — Jack Johnson
Praying — Kesha
Malome – Cassper Nyovest
Super Power — Adam Lambert
Drinkee — Sofi Tukker
Let's Fall in Love for the Night — FINNEAS
Caution — The Killers
I'll Be There — Jess Glynne
Good Over Here — Sho Madjozi
For You — Rita Ora & Liam Payne
God is Love — Common
Mountains — Christine and the Queens
Bad Habit — Ben Platt
Winona Ryder — Picture This
Es Por Tí— Juanes
Attention — Charlie Puth
Brown Skin Girl — Leslie Odom Jr.
Sunshine Girl — Billy Ray Cyrus
Burn — Ellie Goulding
Everyday is a Winding Road — Sheryl Crow
Take Me to Church — Hozier
Balance ton quoi — Angèle
Un Año — Sebastián Yatra
With You — SuperM
Despacito — Luis Fonsi
Bang Bang — Jessie J
What I'm Leaving For — Lady Antebellum
There Must Be an Angel — Annie Lennox & Lola Lennox
Slow Hands — Niall Horan
Bigger Love — John Legend
Hallelujah — Jennifer Hudson
###
About Global Citizen:
Global Citizen is the world's largest movement of action takers and impact makers dedicated to ending extreme poverty by 2030. With over 10 million monthly advocates, our voices have the power to drive lasting change around sustainability, equality, and humanity. We post, tweet, message, vote, sign, and call to inspire those who can make things happen to act — government leaders, businesses, philanthropists, artists, and citizens — together improving lives. By downloading our app, Global Citizens learn about the systemic causes of extreme poverty, take action on those issues, and earn rewards, which can be redeemed for tickets to concerts, events, and experiences all over the world. To date, the actions of our community, along with high-level advocacy efforts and work with partners, has resulted in commitments and policy announcements from leaders valued at over $48 billion, affecting the lives of more than 2.25 billion people by 2030. For more information, visit www.GlobalCitizen.org.
About Universal Music Group:
Universal Music Group (UMG) is the world leader in music-based entertainment, with a broad array of businesses engaged in recorded music, music publishing, merchandising and audiovisual content in more than 60 countries. Featuring the most comprehensive catalog of recordings and songs across every musical genre, UMG identifies and develops artists and produces and distributes the most critically acclaimed and commercially successful music in the world. Committed to artistry, innovation and entrepreneurship, UMG fosters the development of services, platforms and business models in order to broaden artistic and commercial opportunities for our artists and create new experiences for fans. Universal Music Group is a Vivendi company.