CAPITOL MUSIC GROUP LAUNCHES CAPITOL INNOVATION CENTER TO BE BASED AT COMPANY'S ICONIC TOWER AND STATE OF THE ART RECORDING STUDIOS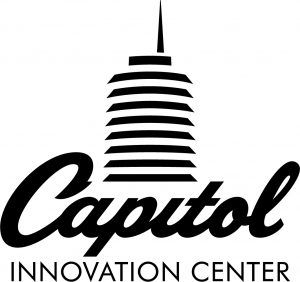 HOLLYWOOD, April 10, 2018 – Capitol Music Group (CMG), a division of Universal Music Group (UMG), has launched the Capitol Innovation Center (CIC) to bring together leading thinkers from the music and technology industries, as well as the student community, to help drive the future of innovation in music.  Based in the iconic Capitol Tower and the company's state-of-the-art Studios in Hollywood, California, the CIC will provide space and conduct event programming designed to foster innovative ideas, bridge the gap between content creators and the tech community, and foster the next generation of leaders in music.
The CIC opens its doors on April 15 with a collaborative workspace and songwriting studio where students, technologists, and content creators will work together under one roof.  . Other initial participants in the CIC include UMG Accelerator Engagement Network and Abbey Road Red Incubator.
The CIC will host a series of events, including Speaker Workshops and Hackathons. CIC's first Speaker Workshop: The Future She Built, a conversation on inclusion and change, will be held on April 18 in partnership with Select Management Group. Confirmed speakers include COO of CMG Michelle Jubelirer, Founder/Director of the Annenberg Inclusion Initiative Stacy Smith, President of SAG-AFTRA Gabrielle Carteris, and President & COO of the LA Sparks Christine Simmons.
The first CIC Hackathon, set for June 2 and 3, will bring together software developers, acclaimed producers, songwriters, and influencers in a challenge to incubate new waves of music-related products, services, and content.  For the duration of the Hackathon, participants will have access to the state-of-the-art Capitol Recording Studios, as well as a catalog of UMG audio streaming tracks delivered by partners 7digital (B2B digital music and radio services company) and Cloudinary (cloud-based media management for developers and brand managers).
About Capitol Music Group
Capitol Music Group (CMG) is comprised of Capitol Records, Virgin Records, Motown Records, Blue Note Records, Astralwerks, Harvest Records, Capitol Christian Music Group, Priority Records, as well as Capitol Studios and the company's independent label services and distribution division, Caroline. Capitol Music Group is based in Hollywood, California in the iconic Capitol Tower.
Artists that record for CMG labels include: Ryan Adams, Erykah Badu, Banks, The Beach Boys, The Beatles, Beck, Bee Gees, Jon Bellion, B.J. The Chicago Kid, Rosanne Cash, Christine and the Queens, Neil Diamond, Robert Glasper, Halsey, Don Henley, Hillsong United, Niall Horan, Illenium, Judah And The Lion, Tori Kelly, Kem, Lil Yachty, Charles Lloyd, tobyMac, Paul McCartney, Vic Mensa, Migos, NeYo, NF, Norah Jones, Katy Perry, Gregory Porter, Rich Homie Quan, Maggie Rogers, Calum Scott, Bob Seger, Troye Sivan and Chris Tomlin. For the U.S only.: 5 Seconds Of Summer, Bastille, Disclosure, Empire Of The Sun, Glass Animals, MNEK and Sam Smith.
Capitol Music Group is a division of Universal Music Group, which is a fully owned subsidiary of Vivendi.
About the UMG Accelerator Engagement Network
Universal Music Group launched the Accelerator Engagement Network in October 2017 to partner with generalist accelerator programs throughout the world to assist in the evaluation, mentorship and development of innovative music start-ups. The UMG Accelerator Network is currently partnered with the Axel Springer/Porsche Accelerator (Berlin), NYC MediaLab (New York), Sparklabs (Seoul and Taipei), LeanSquare (Belgium) and China Accelerator (Shanghai).
About Abbey Road Red
Abbey Road Studios, the birthplace of stereo and countless innovations in recording technology, created Abbey Road Red in 2016. Abbey Road Red is our open innovation department designed to support the endeavors of the brightest music tech entrepreneurs, researchers and developers. We run a unique music tech start-up incubation programmed – the first of its kind in Europe – to support the most promising music tech start-ups, as well as collaborating with the brightest minds in academic research. In 2018, the program is now expanding with in-house R&D activities within the music creation space.
About Women's Audio Mission
Women's Audio Mission (WAM) is a non-profit organization whose mission is to promote the advancement of women in music production and the recording arts. WAM has provided training, work experience, and career counseling to over 1,500 women and girls every year in creative technology and has placed over 600 young women in positions at companies like Google, Pixar, Dolby, Facebook, and Electronic Arts.