ALEXANDRA LIOUTIKOFF PROMOTED TO PRESIDENT, UNIVERSAL MUSIC PUBLISHING GROUP LATIN AMERICA & U.S. LATIN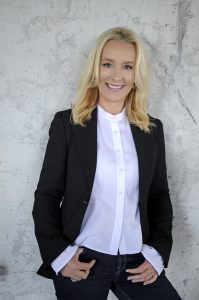 SANTA MONICA, March 13, 2019 – Universal Music Publishing Group (UMPG), a leading global music publishing company, announced today that Alexandra Lioutikoff has been promoted to President, Latin America and U.S. Latin. Based in Miami, Lioutikoff will continue reporting to UMPG Chairman and CEO Jody Gerson.
In this new role, Lioutikoff becomes the first female president of Latin America and U.S. Latin for a major music publishing company. She will continue to be responsible for the growth and development of U.S. Latin and Latin American territories for the company, overseeing operations across 19 countries and building UMPG's Latin songwriter roster. Since joining the company in 2016, Lioutikoff has been instrumental in growing the inclusion of Latin writers and songs into the global music market, including in the film and TV arenas.
On making the announcement, Gerson said: "I couldn't be prouder to promote Alexandra to President of UMPG Latin America & U.S. Latin. In the three years she's been with our company, she's completely transformed the region creatively and the financial results are unprecedented."
"Latin music is finally being recognized and celebrated globally, and I'm honored to be leading UMPG's Latin efforts to partner with the some of the best songwriters and producers in the world," said Lioutikoff. "I'm grateful to Jody Gerson for believing in me and for UMPG's unwavering support of this genre."
In her previous role at UMPG, Lioutikoff served as executive vice president of Latin Music. Under her leadership, Lioutikoff led the signings of Romeo Santos, Anitta, Espinoza Paz, Rvssian, Roc Nation Latin Publishing, Bruno Martini, Rich Music and Justin Quiles, Young Martino, MadMusick, Raymix, Christian Nodal and Mon Laferte, among others.
Prior to Universal, Lioutikoff served at ASCAP as head of the Latin membership department where she expanded operations to include urban and Latin rock, helped lead a major reorganization of the Puerto Rico office and developed five Latin offices.
Billboard has named Lioutikoff several times to its annual Latin Power Players list and Women In Music list, as well as to its International Power Players List. She was the 2018 recipient of the Ralph S Peer Publishers Award from the Latin Songwriters Hall of Fame. She also serves as a trustee of the Latin Academy of Recording Arts and Sciences.