Ajax and adidas release an iconic 2021/2022 third kit inspired by Bob Marley
A tribute to fans' adopted anthem and iconic ode to hope – Three Little Birds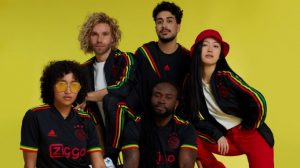 Amsterdam, August 20, 2021 – Today, Ajax and adidas, in collaboration with the Bob Marley family release the 2021/2022 Ajax third kit. The kit is a tribute to the Ajax fans and the love shared by the club and its fans for reggae legend Bob Marley and his iconic song, Three Little Birds. The black kit features red, yellow and green details. On the back of the jersey, just below the collar, it features a subtle reference to the iconic song, with three little birds sitting on Amsterdam's Andreas crosses. The kit will be worn in this season's European matches, alongside Ajax' home kit.
A spontaneous love story
The story of Ajax, Bob Marley and Three Little Birds started in August 2008, when Ajax played a friendly match in Cardiff, against Cardiff City F.C. The Ajax fans were asked to remain in the stands after the game. To entertain the patient fans, the stadium DJ played several tracks, one of which was Three Little Birds. The rest is history. The fans instantly embraced the song as their own and have been singing it at every game since. A true symbol of hope, the fans sing the song regardless of the score in the game.
Football is family
Across generations, no musical artist has influenced the world quite like Bob Marley. His legacy and messages of hope, love, justice and unity remain as powerful today, as when they were written. An active and dedicated fan of the sport, Bob Marley's widely known love of football makes this collaboration and the collective love for his music from Ajax fans especially poignant with his family.
"I am beyond touched that Ajax has taken Three Little Birds and made it their anthem. Stories like this warm my heart and show how impactful songs like Three Little Birds can be. Soccer was everything to my father…and to use his words 'football is freedom'" – Cedella Marley
Capsule collection
The kit features a jersey, short and socks. On the socks, Amsterdam's Andreas crosses are prominently highlighted. The range also includes a track top, track pant, sweater, t-shirt and Samba footwear. Samba footwear originates from football but has become a global fashion icon in its own right. With stripes in red, yellow and green, the footwear also features the Ajax crest on the tongue of the shoe and the three little birds on Amsterdam's Andreas crosses on the heel tab.
Available now
All product is available from August 20 onwards, and available on ajax.nl/shop, adidas.com, in Official Ajax Fanshops (ArenA, Kalverstraat and Bataviastad) and through selected retailers around the world.
Notes to editors:
This project was brought together by Bravado, Universal Music Group's industry leading global merchandise company, working in partnership with the Bob Marley family.
ABOUT AJAX
Founded on March 18, 1900 AFC Ajax is one of the largest and most storied clubs in European football. The club play their home matches in the iconic Johan Cruijff ArenA in Amsterdam, which is named after club legend Johan Cruijff, who passed away in 2016. Ajax's world famous youth academy is located nearby the stadium and is called 'de Toekomst' which literally means the future. The goal of Ajax is to form talented young players into top football players. Cruijff, Marco van Basten, Frank Rijkaard, Dennis Bergkamp, Clarence Seedorf, Wesley Sneijder and Matthijs de Ligt are but a few of the international stars that have successfully completed the training at the youth academy. Historically Ajax (named after the legendary Greek hero) has been the most successful club in the Netherlands with 35 national league titles, 20 KNVB cups and 9 Dutch Super Cups. Next to that the club won many international trophies among which 4 European Champions League cups (1971, 1972, 1973 and 1995) and 2 World Cups (1972, 1995).
ABOUT ADIDAS IN FOOTBALL
adidas is the global leader in football. It is the official supplier of the most important football tournaments in the world, such as the FIFA World Cup™, the UEFA European Championship & the UEFA Champions League. adidas also sponsors some of the world's top clubs including Real Madrid, Manchester United, Arsenal, FC Bayern Munich, Juventus & Ajax. adidas is also partner to some of the best athletes in the game including Leo Messi, Paul Pogba, Mohamed Salah, Paulo Dybala, Thiago Alcantara, Gabriel Jesus, Roberto Firmino, Joao Felix, Serge Gnabry, Isco, Dele Alli, Karim Benzema, Vivianne Miedema, Catarina Macario, Lindsey Horan & Wendie Renard.
ABOUT BOB MARLEY
Bob Marley, a Rock and Roll Hall of Fame inductee, is notable not only as the man who put reggae on the global map, but, as a statesman in his native Jamaica, he famously brought together the country's warring factions. Today, Bob Marley remains one of the 20th century's most important and influential entertainment icons. Marley's lifestyle and music continue to inspire new generations as his legacy lives on through his music. In the digital era, he has the second-highest social media following of any posthumous celebrity, with the official Bob Marley Facebook page drawing more than 70 million fans, ranking it among the Top 20 of all Facebook pages and Top 10 among celebrity pages. Marley's music catalog has sold millions of albums worldwide. His iconic collection LEGEND holds the distinction of being the longest-charting album in the history of Billboard magazine's Catalog Albums chart and remains the world's best-selling reggae album. Marley's accolades include inductions into the Rock and Roll Hall of Fame (1994) and ASCAP Songwriters Hall of Fame (2010), a GRAMMY® Lifetime Achievement Award (2001), multiple entries in the GRAMMY® Hall Of Fame, and a star on the Hollywood Walk of Fame (2001).
For more information, visit bobmarley.com and @bobmarley on social media.
ABOUT BRAVADO
Bravado is the leading global provider of consumer, lifestyle and branding services to recording artists and entertainment brands around the world. Part of Universal Music Group, the leader in music-based entertainment, Bravado represents artists in more than 40 countries and provides services including sales, licensing, branding, marketing and e-commerce. Their extensive global distribution network gives artists and brands the opportunity to create deeper connections with their fans through apparel, consumer packaged goods and unique experiences. For more information: http://www.bravado.com
ABOUT UNIVERSAL MUSIC GROUP
Universal Music Group (UMG) is the world leader in music-based entertainment, with a broad array of businesses engaged in recorded music, music publishing, merchandising and audiovisual content in more than 60 countries. Featuring the most comprehensive catalog of recordings and songs across every musical genre, UMG identifies and develops artists and produces and distributes the most critically acclaimed and commercially successful music in the world. Committed to artistry, innovation and entrepreneurship, UMG fosters the development of services, platforms and business models in order to broaden artistic and commercial opportunities for our artists and create new experiences for fans. Universal Music Group is a Vivendi company.